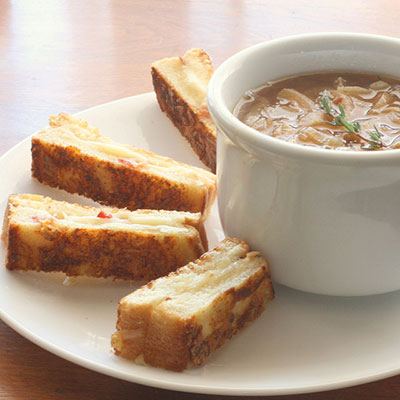 Is there anything better than something aromatic and savory bubbling away on the stove? I don't think so, especially when it is chilly and dark outside.
With a big snowstorm predicted in the east and an even bigger playoff game here in the west this weekend, I feel like we need to bring out the big guns in the form of a delicious old favorite, French onion soup.
I know a lot of us usually only eat this soup when it is on the menu at our favorite local restaurant, but it is perfect for a viewing party or snowy evening at home. Sophisticated, affordable and pretty simple to make, why eat it from a can when you can make it better at home? Paired it with these crunchy little grilled cheese strips and you will have an easy meal that everyone will surely love.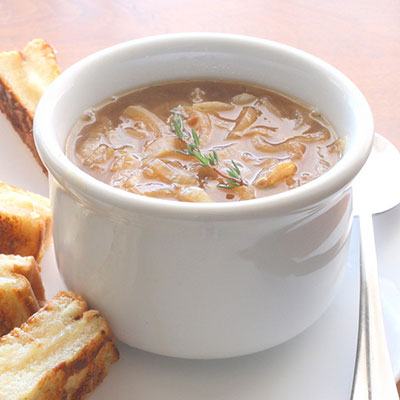 French Onion Soup with Grilled Swiss Cheese and Bacon Dippers
There are many versions of this soup. Some claim to be authentically French, but I don't even go there. My version is inspired by the French original, but has a strong American accent. The cheese dippers are inspired by my friend Chef Mark Kalix. He served something similar at one of his date night classes and everyone was so won over by the flavor, you could hear a pin drop in the room.
French Onion Soup
2 tablespoons vegetable oil
1 tablespoon butter
6 medium size yellow onions, very thinly sliced into rings then cut in half
2 large garlic cloves, coarsely chopped
2 cups chicken stock
4 cups beef stock
1 sprig fresh thyme
1 bay leaf
1/2 cup dry white wine
1/4 cup red wine
Melt butter and oil together in a large stock pot over medium high heat.
Add 2/3 of the onions to the pot, stirring well to coat onions. Cover the pot and allow onions to caramelized, watching carefully so they do not burn. Once the onions at the bottom start to reach a deep brown color, stir well and cook the remaining onions in the pot until they reach the same dark golden brown color. This important step will take about 30 minutes so don't rush it.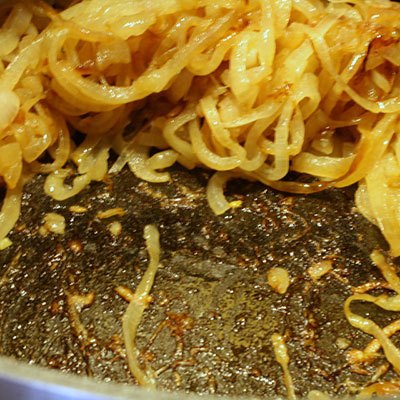 As your onions start to caramelize, a fond (crust) will build up on the bottom of the pan. This will add great flavor to your soup and will break up when the liquid is stirred in.
Add the remaining onions and saute until they are soft and transparent.
Add the garlic and cook for one minute longer.
Add chicken and beef stocks, thyme, bay leaf and red and white wine. Bring to a boil, reduce heat, cover and simmer for 20 – 30 minutes.
Serve with grilled Swiss cheese and bacon dippers (recipe follows)
This recipe serves 4 – 6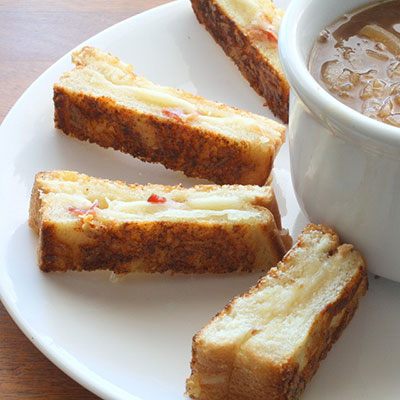 Grilled Swiss Cheese and Bacon Dippers
1 tablespoon butter (unsalted or salted, your choice), softened to room temperature
1 tablespoon shredded Parmesan cheese
1/8 teaspoon granulated garlic or garlic powder (fresh garlic will burn, so granulated or powder is best)
2 slices of your favorite bread
1/2 cup shredded Swiss cheese
1/2 to 1 slice of crispy cooked bacon, chopped
Preheat a non-stick frying pan (I love my cast iron griddle) over medium heat.
Mix butter, cheese and garlic together in a small bowl. Spread outsides of bread with butter. Sprinkle insides with cheese and bacon.
Place sandwich in preheated pan and grill to a golden brown on both sides and/or until the cheese is melted on the inside. Slice into strips for dipping.
Serve immediately.
Makes 1 sandwich.