I started my diet today, so I ate two rice crispy treats to celebrate. As you can tell, I'm just hopeless. No willpower, no self control. You see the problem really lies in my love for food. I'm not a compulsive eater; I just can't deny myself all that is buttery, gooey and rich. My second issue is that it is really hard to maintain a low fat, low calorie diet when I am trying to create a culinary masterpiece on a daily basis. In addition to this blog, I like to enter the occasional recipe contest. How can I possibly lose weight when the qualifying ingredients are usually some sort of refrigerated bread dough and an assortment of jams? I guess that's why some of the prize money is so large, they must know that you will probably have to pay for liposuction after its all over.
Back in 2004 when I went to my first contest, I thought that I needed to lose a pound or two. Well, fast forward five years and I still have those couple of pounds and have collected a few more along the way. I figure it pretty much breaks down like this. After winning $10,000 in that first contest, I was hooked. Two years later I whipped up a recipe for little sweet potato cakes with toffee sauce that earned me another $10,000 and probably the five extra pounds that I have around my waist. Next, I experimented with a lorry load of cranberries, which I am proud to say, won me $25,000 and another five pounds. Now on the upside of this, I haven't had a urinary tract infection or a cold in over a year. I've also won a few small contests here and there that probably account for a small part of the overall total. I don't really resent these pounds because they were gained for the greater good. It's the other twenty or so that I gained working on the contests that I didn't win anything for that I resent. Curse you Mama Mary's, Bays English Muffins, Sutter Home and the legions of other sponsors who have ignored my selfless efforts in the pursuit of perfection to showcase their products. Not a call, not a cheque, nothing. I do want them to know though, that my heart is big and my forgiveness is just a phone call away.
Well, I guess no matter who or what's to blame; tomorrow morning I've got to get right back on that proverbial diet horse again. I'll lace up my shoes and hit the trails with that drill sergeant of a husband of mine and his little fluffy white dog. We have walked every footpath in the Castle Rock area a hundred times over and some of them are angled straight up. My husband has lost forty pounds, our dog has lost five and I've lost, you guessed it, zippo, nada, nothing. I must confess, that my husband is slightly more dedicated than I. Besides, I'm a bit suspicious that walking just might cause weight gain in women. Oh well, what the heck, we've seen some beautiful scenery, had some great conversations and made one little dog very happy.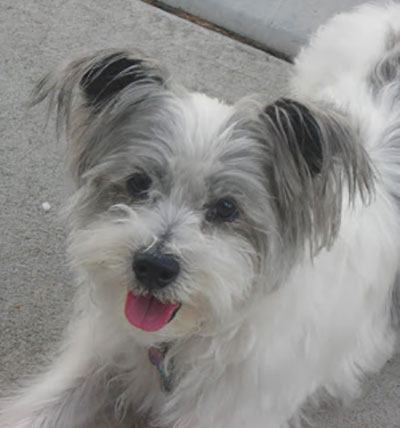 Scruffy, the fluffy white walking machine
In conjunction with my commitment to get my hot body back, I've decided to eat a bit lighter for as long as I can stand it. I have a collection of recipes that I love that aren't intentionally light; they are because that's just how they taste best. I really try to avoid light mayonnaise, artificial sweeteners and other diet foods because I just don't like most of them. Here's one of my favorite healthy standbys.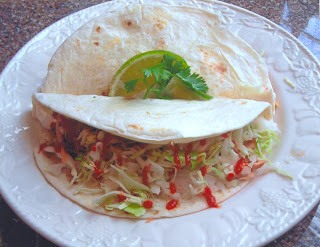 Salmon Baja Tacos
The first time I ever saw fish tacos on a restaurant menu, I was intrigued. I couldn't decide whether this was going to be the best thing I had ever eaten or the worst. Good thing, it was the best. There are two different ways of preparing these tacos, grilled or fried. I really can't decide which one I like the best, so I usually go with this healthier version and save the fried for later.
1 tablespoon (15ml) freshly squeezed lime juice, divided
1 tablespoon (15ml) olive oil, divided
1 teaspoon (5ml) salt
1 teaspoon (5ml) garlic powder, divided
1 teaspoon (5ml) ground cumin, divided
1/2 teaspoon (2.5ml) ground coriander
1 teaspoon (5ml) chili powder
1/2 teaspoon (2.5ml) freshly milled pepper, divided
1 pound (500g) fresh salmon fillet
1 cup (250ml) soured cream
1 tablespoon (15ml) fresh coriander, finely chopped
2 – 3 heaping teacups shredded green or white cabbage (iceberg lettuce works well too)
8 flour or corn tortilla pancakes
Sriracha garlic chili sauce
Lime wedges
In a small bowl combine 2 teaspoons (10ml) lime juice, 2 teaspoons (10ml) olive oil, salt, ½ teaspoon (2.5ml or 1 crushed small clove) garlic, ½ teaspoon (2.5ml) cumin, coriander, chili powder, and ¼ teaspoon pepper. Mix well; set aside. Place salmon fillet, which has been rinsed and dried well, on a clean dry surface. Pour spice blend over the fillet and smooth over the entire surface (if skinless or just the top if skin is on one side) with the back of a spoon or with very clean hands. Cover with cling film or place in a zipper seal plastic bag and refrigerate for 1 hour.
While salmon is chilling, place soured cream in a small bowl. Add the remaining lime juice, garlic, cumin, fresh coriander and black pepper. Mix well, cover and set aside until ready to use. Place tortilla pancakes between two large pieces of aluminum foil and crimp edges to seal. Place in a preheated 350 F, 150 C oven or on the hot outdoor grill to heat for 10 minutes or so.
Heat an outdoor grill or indoor grill pan to medium high. Brush grill or pan with the remaining oil. Place salmon on hot grill, skin side up. Cook salmon on each side for approximately 5 minutes on each side or, depending thickness, until it is cooked through and flakey. Remove fish from heat and flake with a fork, cover with foil to keep warm. Remove hot tortilla pancakes from heat and place on serving plate. Place 1/8 of the flaked salmon in the middle of the tortilla. Top salmon with a drizzling of the soured cream mixture, followed by 1/8 of the shredded cabbage and then by a drizzling of the chili sauce. Fold in half and serve immediately while still hot. Repeat process with the remaining ingredients.
Serve with chili sauce and lime wedges.
Makes 8 tacos, enough for 4 hungry people.