It is hard to believe that fourteen years ago today, my baby boy was born. My little warm, round bundle of joy, now looks me straight in the eye. His gigantic shoes are a constant potential hazard lurking behind a chair or, worse yet, at the top of the stairs. I now mistakenly hang his shirts in my husband's closet. He is still my baby, but there's just so much more of him to love these days.
Birthdays at our house are high holy days. Teenage social activities, errands and meetings are all put on the back burner for this one special night. I begin the order taking a few days in advance. No meal is too much trouble. I will even get out the oil and do a little deep frying if necessary. Kevin's wish list for his special day consisted of churros for breakfast and chicken fried steak (a true Texas favorite) for dinner. In Kevin's case, frying is always necessary.
In my opinion, one thing that is an absolute must, is some sort of birthday sweet. I prefer a cake but, in true teenage form, Kevin has decided to breakaway from that archaic tradition and opt for a birthday pie. His chosen flavor, Chess. I can't say that I blame him. The crisp crust and buttery custard flavor is just perfect. I hope you enjoy the following recipes. They were the framework for a very special day.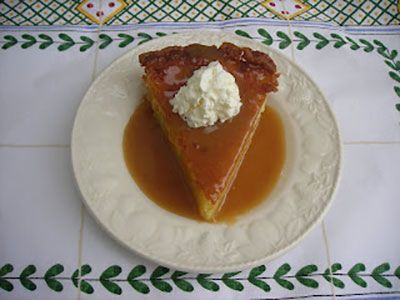 Chess Pie
This recipe is for either plain or lemon flavour. I love both of them but I prefer the lemon flavour with whipped cream and the plain with caramel sauce. My husband thinks the caramel sauce makes it a bit too sweet. To each his own.
½ cup butter (113g), softened to room temperature
1 ½ cups (292g) sugar
1 pinch salt
1 tablespoon (15ml) all-purpose flour
1 tablespoon (15ml) polenta or corn meal
4 eggs, beaten
1 cup (250ml) milk
1 teaspoon (5ml) vanilla extract
2 tablespoons (30ml) freshly squeezed lemon juice (for making lemon chess pie)
Shredded zest of one lemon (for making lemon chess pie)
1 Uncooked deep dish pastry shell (I usually buy the frozen pastry shells. They are delicious and easy)
Preheat oven to 350 degrees, 180 C, Gas Mark 4.
In a large mixing bowl, cream butter, sugar and salt with an electric mixer set to medium low. Add flour and polenta, mix well. Next add the eggs, milk, and vanilla, (if you would like to add lemon juice and zest, add now). Pour into pastry shell.
Bake in preheated oven for 60 minutes or until a knife inserted in the middle comes out clean. Allow cooling for 30 minutes. Serve warm or cold with whipped cream or caramel sauce drizzled over, recipe follows.
CARAMEL SAUCE
2 ounces (56g) butter
4 tablespoons (60ml) brown sugar
1 cup (250ml) whipping cream
In a small sauce pan over a medium heat, melt butter. Add brown sugar and cook until it is completely dissolved and simmering. Gradually pour in single cream and cook, stirring constantly until it is heated through.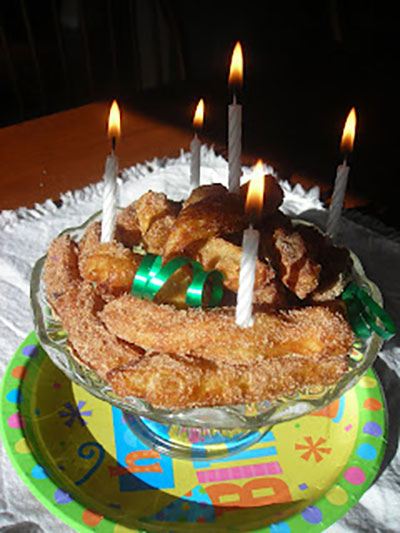 Vegetable or Light Olive Oil
1 cup (250ml) water
½ cup (113g) butter
1 teaspoon (5ml) salt
1 cup all purpose flour
2 eggs
1 tea cup granulated sugar
1 dessertspoon ground cinnamon
Prepare to fry the churros by heating oil in a pan to a medium high heat. The oil should be 1 to 1 ½ inches in depth.
In a medium saucepan, heat water, butter and salt to a rolling boil. Remove from heat and stir in flour all at one, stirring vigorously with a large wire whisk until it is glossy and forms a ball at the bottom of the pan. Set aside.
In a small bowl, beat the eggs. Slowly add them to the warm dough and stir well until the eggs are completely incorporated into the dough.
Now this is the tricky part but there is really no getting around it. Transfer the dough into a pastry bag fitted with the largest star piping tip that you can find. Squeeze out 3" strips in the hot oil and fry them for 1-2 minutes until they are a golden brown. Remove from the oil with a slotted spoon and drain on paper toweling.
While the churros are still warm, combine the sugar and cinnamon and roll each churro in the mixture. Shake off excess and serve while still warm.