I've struggled with this entry for my beloved blog. I waited a bit and gave my family time to do something interesting that I could build my story on . . . no luck. Not a bag left on public transit, no stupid gifts, nothing, so I guess I'll have to go back into the memory vault and pull something out.
When I talk with my friends about their families and memories of their childhood, I usually hear something like memories of baking cakes and cookies with their dear old blue haired grandmother by the warmth of a crackling fire. Normally, I am the first to admit that I didn't have a great relationship with my grandmothers. My paternal grandmother was a very glamorous woman who lived a great distance from us and, was mostly absent from our lives. My maternal grandmother, who was a constant in our lives while growing up, although a great cook and baker, was about as cuddly as a porcupine. After this admission, the stories usually come tumbling out like a jailhouse confession. You see, I think that normal, cookie baking grandmas are the exception and not the rule. Don't feel ashamed of your colorful background if you have one, celebrate it. Some of the best of us had one too.
My mother came from a totally dysfunctional family of five children. Except for her, all of these children had three children of their own, pretty close in age. Holidays were usually spent with this tribe at my grandmother's farm on the south side of Crazytown. Counting my first and second cousins there was normally 20 children or so at any given occasion (no wonder everyone was a little mad). While the adults fought in the lounge (a time honored tradition in our family), the unsupervised children were free to enjoy activities such as; sinking into the mud of an almost dry pond, starting fires with fireworks in the front garden, and our favorite, listening to the adults arguing in the lounge. In addition to the obvious entertainment value, we found this to be a necessity because it gave us heads up on who was probably going home before the night was over. Aaaahhhh, memories of childhood.
In between all of these shenanigans laid the food that tied us all together. Some of the best food I have ever eaten was offered up at these lively get togethers. Light and crispy fried chicken, creamy mac and cheese, over cooked and slightly vinegary green beans and every child's favorite, whipped mashed potatoes with smooth white cream gravy were ever present and available in abundance. Although I love gourmet foods with delicate flavours and carefully reduced sauces, if I were given the choice of my last meal, it would most likely be taken from one of these menus. I am pleased to say that it is not just my simple palate. I was watching a television show with some of the western world's greatest chefs. When asked what their all time favorite meal would be, without exception, it was down home comfort food from their childhood.
Now that I reflect back on those days, I realize that this crazy, passionate bunch of people really added some of the spice that made me the character that I am today. What would a nice curry be without the turmeric or chilies? What would I be without them?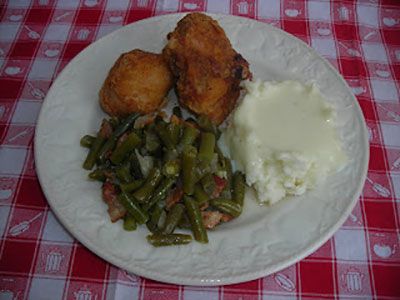 Pan Fried Chicken
I find this to be a rare and guilty pleasure. No one misses this dinner. I was never really taught this technique of frying chicken, I just absorbed it by watching my mother do it hundreds of times. Be sure and drain your cooled oil and save it in a tightly sealed container for more uses.
I try to find the smallest chicken possible, cut it up myself, rinse the pieces (patting them dry slightly), add a little salt , pepper and garlic powder, cover it and allow it to sit in the fridge for an hour or so if possible.
Pour a couple of cups of plain flour into the center of a plate. Dredge wet chicken pieces through the flour then mound them into the center of a second plate. Allow them to sit on the plate while you heat about 1 – 2 inches of oil into a large frying pan over medium high heat. By the time you are ready to fry the chicken, hopefully it has a sticky coating, now, dredge the pieces through the flour one more time and shake off the excess.
Place the chicken pieces into the hot oil (they should sizzle when added to the oil) cover, and fry to a golden brown, turn and fry to a golden brown on the other side. Fry chicken in batches if necessary so there is plenty of room in the pan for the oil to circulate around the pieces. Remove from the oil and place on kitchen roll to drain. Place on a cookie sheet or shallow pan in a 300 degree oven for up to about 15-20 minutes before it starts to dry out.
Sprinkle with your favorite seasoned salt or make your own following my recipe below.
Seasoned Salt
In addition to sprinkling this on fried chicken, this is great on all types of meat and fish. Rub meat down with desired amounts of this seasoning before putting it on the barbeque for a nice change to regular old s & p.
1 tablespoon salt
2 teaspoons light brown sugar
1/2 teaspoon granulated sugar
1/2 teaspoon garlic powder
1/2 teaspoon sweet paprika
1/4 teaspoon black pepper
Combine all of the ingredients in a small bowl or tea cup. Use immediately or store in an airtight container.