Today I am excited to turn my blog over to the capable hands of my friend Kirsten Hall, author and creator of My Kitchen in the Rockies. If you are unfamiliar with her blog, I highly recommend that you click on the link below and take a look. Her site is filled with great recipes from her German homeland as well as her American favorites and others from around the world. Combine these delicious recipes with her beautiful photography and you have a great place to go when you are in need of a little culinary inspiration.

I am pleased that today she is sharing with us a lovely recipe for German Red Cabbage along with some information about her upcoming culinary excursion to the Palatinate region of Germany. So whether you are interested in a great cabbage recipe or the trip of a lifetime, please give Kirsten a minute and keep reading.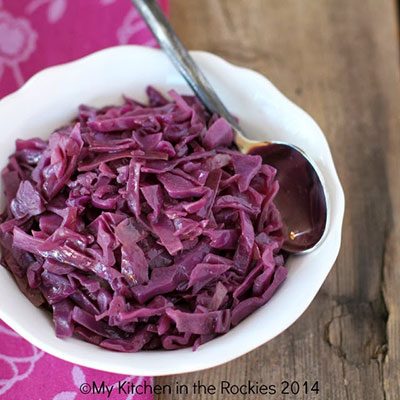 Hello everybody. I am Kirsten, a Denver area food blogger friend of Karen's. I share my German and French influenced dishes over at My Kitchen in the Rockies.  Thank you so much Karen for having me today.
I am a native German with a pharmaceutical background and have been living with my family in Colorado since 1998.  My second passion, besides food, is traveling. Last year I had the opportunity to combine both and offer my first culinary adventure to my home region in Germany and France. This trip was a huge success with my American guests and I am thrilled to offer it again in October 2014.  We will travel to Heidelberg, Baden Baden and Strasbourg and experience the regional cuisine first hand through lessons at local cooking schools and dining at nearby restaurants.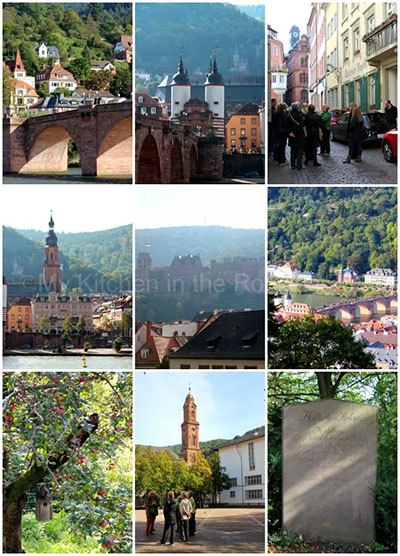 We will also spend time wine tasting along the German wine road, watching a traditional wine parade in the Black Forest area and taking guided walking tours to the historical sites in each visited town.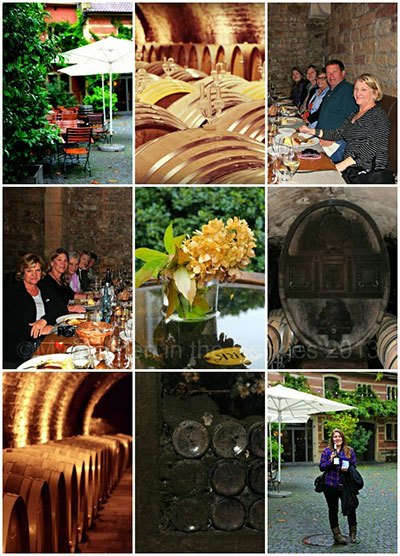 To give you a taste sample of the trip's culinary treats I would like to share with you a recipe from my home region Palatinate. The palatinate area is located along the German wine road, bordered by the river Rhine on the east and France on the west side. Fitting with Karen's Something From Nothing recipe theme I thought of German red cabbage which is a very affordable, but tasty side dish.
In this specific German red cabbage dish the red cabbage gets cooked in red wine, but also features more common flavorings like clove and bay leaves. Many dishes that originate from Palatinate use wine, since it is locally available and they have it on hand. White cabbage, for example, gets cooked in our world famous Riesling wines. German red cabbage is best known as a side for the humble dish bratwurst with mashed potatoes, but can also be served along side a festive Sunday roast or a special venison dish.
I hope you all enjoyed today's culinary excursion to Germany. Karen, thank you so much again for giving me the opportunity to share my upcoming culinary adventure with your readers.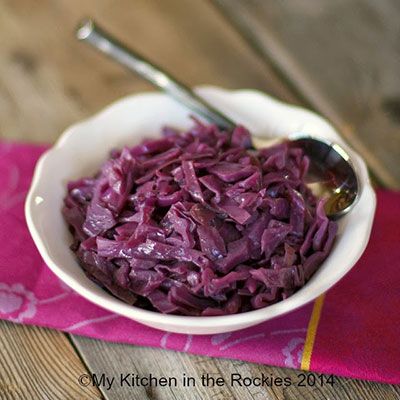 German Red Cabbage
1 red cabbage, about 2 pounds
1 Tablespoon vinegar
2 Tablespoons lard, or butter
1 bay leaf
2 cloves
salt and pepper to taste
1 teaspoon sugar
1 cup (250 ml) red wine, table wine quality is fine
Slice cabbage in half lengthwise. Use a sharp knife to cut a V-shaped notch around the white core and discard it. Slice both pieces in half again so you have 4 quarters, then thinly slice each piece crosswise into 1/4-inch-thick strips.
Mix with vinegar immediately and set aside.
Heat lard or butter in a bigger pot on medium heat. Add the cabbage and sauté for 5 minutes.
Add wine, bay leave and cloves. Season with salt and pepper.
Simmer the cabbage on low for about 1 hour. Add more liquid if necessary.
Season again with pepper and salt. Add more vinegar or/and sugar to your liking.