I miss the wonderful things about England; the beautiful rolling meadows outlined by ancient stone walls, the perfectly sculpted colorful gardens and well prepared English food. I also miss the not so wonderful things about England too; the urine soaked car park lifts, the Barbie and Ken size refrigerators, the lack of ice, the rationing of ketchup, and poorly prepared English food.
England has always had a bad reputation when it comes to its food and I don't really know why. My theory is that the reviewers must have been visiting the country's more commercial, high profile pubs than the more quaint establishments where the really good English fare is served. The Peacock at Redmile, Stapleford Park, Langar Hall and Martin's Arms (I could go on and on), are, in my opinion, the places that serve the best of the best. Oh, my heart aches for these most beloved of establishments. Thanks be to G*d and my husband's fat expense account, I was able to try them all, several times over.
When we lived in Nottingham, our American guests were always eager to get to a pub to try Steak and Kidney pie followed up by a comical serving of Spotted Dick. We always obliged them since this usually occupied the number one spot on their "to do" list. The first couple of visitors to arrive on our doorstep were given our advice to pass on The Goose at Gamston and wait for our Saturday night booking at The Cottage, or my absolute favorite, Laguna Tandoori. Most listened, some didn't, so we finally gave up giving advice and just went with them.
Many people are shocked to discover that curry, not Spotted Dick, is the most popular food in England. I guess that must be their version of Tex-Mex. In fact, when I first started making the occasional curry, I found it an easy jump from my beloved Mexican recipes because many of the ingredients were already in my pantry. Cumin, coriander, chili powder and garlic are the bases for many recipes from both countries. Just add a bit of fresh ginger, garam masala or fenugreek, and voila, you've got a trip Mumbai without ever boarding a plane.
What brought this all to mind was a visit last week from my friends from Nottingham, Susan and Adrian. We had such a blast with them. We dragged them around our part of the world to see the Garden of the Gods, Manitou Springs and the most historic of all the sights, the casinos at Blackhawk. The latter is where we all made a small donation to the betterment of the owners' deep pockets and hit the road back home swearing that was the last time we'd ever do that. Yeah, we've all said that before.
I did a lot of cooking when they were here. Susan, ever the healthy eater, was a real sport. Even though we started out healthily enough with Margarita Grilled Salmon and Texas Caviar, our diet took a gradual downhill slide and soon deteriorated to Chicken Fried Steak with gravy on their last night. Well, Adrian had never tasted this state food of Texas and I looked upon that as my call to duty. Susan's just lucky that they were leaving the next morning or we would have had his other never eaten recipe, fried chicken, the next night. She got out just in time.
Since I have already offered up recipes for chicken fried steak and fried chicken, I'm going to feature my favorite recipe for my favorite curry, Chicken Korma. If you've never tasted or prepared this delicious dish, pull out the spices and cook something new and different. As I stated earlier, if you cook Mexican, you may have to pick a few things up at the grocery but not that many. Believe me, it will be worth the trip.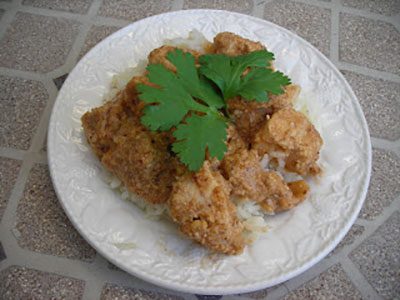 Creamy Chicken Korma

I have cooked this recipe so many times that I could make it in my sleep; that's how much we love it. I recommend making the garlic paste in your blender if you have one because it blends much smoother than a food processor or mini processor which makes for a very creamy finished dish. Try to remove as many of the bay leaves, cinnamon sticks, cardamon pods and cloves as possible before serving as this will save your diners from any unpleasant surprises
5 garlic cloves, coarsely chopped
1 – 1″ (2.5cm) piece of fresh gingerroot, coarsely chopped
2 ounces (50g) sliced almonds
5 tablespoons light olive or vegetable oil
2 small bay leaves
6 – 8 cardamon pods
4 cloves
2 – 1″ (2.5cm) pieces of cinnamon stick
1 medium size onion, coarsely chopped
1 tablespoon ground cumin
1 tablespoon ground coriander
1/4 teaspoon (1ml) cayenne pepper
1 tablespoon (15ml) tomato paste (puree)
4 -5 medium size chicken breasts, cut into 2″ cubes
1 to 1-1/2 (5ml – 7.5ml) teaspoon salt
3 tablespoons (45ml) cream
1/2 tablespoon (7.5ml) garam masala
1 teaspoon (5ml) fenugreek (optional, but I love the butterscotch like flavor that this spice adds to this dish)
1 cup (250ml) water
1 small bunch fresh coriander, stems removed and coarsely chopped
Place the garlic, ginger, almonds and 6 tablespoons of water into a blender and blend into a smooth paste; set aside.

Put the oil in a large non-stick frying pan and set over a medium high heat. When the oil is hot, add the bay leaves, cardamon pods, cloves and cinnamon; saute for 15 seconds or so before adding the onion and sauteing until soft and transparent.

Reduce the heat to medium and add the paste from the blender, the cumin, coriander and cayenne. Cook, stirring constantly for 2 – 3 minutes. Add the tomato paste and stir for a minute or so or until it is completely combined.

Add the chicken pieces, salt, cream, garam masala, fenugreek and water; cook, stirring frequently for approximately 2 minutes or until the mixture is simmering. Cover with a tight fitting lid, reduce the heat to low. Simmer gently for approximately 30 minutes, stirring occasionally, until the chicken is cooked through. Serve with rice and a sprinkling of the chopped, fresh coriander.

Serves 6