It hasn't been much of a summer here in Colorado. A few days ago was the coldest day ever recorded in our state in the month of July. It has rained every afternoon for as many days as I can remember. This really wouldn't be much of a problem, but in Colorado summer storms are accompanied by thunder, lightening, hell fire and brimstone. My poor little dog is on his last nerve.
Everyone knows by now that I was raised in Texas. I guess that it is just conditioning but when I think of summer, Texas summers are what come to mind. The black pavement on the streets would become so hot that as kids, we actually fried eggs on them. We were always a bit disappointed that they didn't sizzle, but as I remember, even though it took them about half an hour to reach a sunny side up degree of doneness, the results were pretty satisfying. I guess you could say that this was how I got my start in cooking.
A few years later when I had outgrown my street side egg frying days, summer meant cut-offs, halter tops, Fleetwood Mac and freedom. No school, no work, no parental constraints. Since we lived in a town of not quite 6,000 people, parents weren't too concerned about what their teenagers were up to. I'm sure that they figured the shenanigan factor was pretty small. Boy, were they ever wrong.
By the summer before my senior year in high school, the drinking age in Texas was 18. This meant that we could actually load up a tapped 16 gallon keg in the back of someone's pick up truck, and drive from location to location looking for a comfortable place to hang out for the night. I was never a big beer drinker so I was usually the designated driver even though back then if you were pulled over by the police and found to be intoxicated, the worst that usually happened was that your parents would be called to come and get you. I'm not saying it was right, that's just the way it was.
In these days there was no shortage of places to set up shop. As you can probably imagine, rural Texas towns had an endless spider web of desolate country roads which is where we would head if everyone's parents were home and there was no where else to go. We had landmarks that are still known to the local teenagers by the names that my generation gave to most of them. There was Twin Gates, The Slab, an old large trestle bridge known as Weber's Bridge and my favorite, Mustang Creek
Mustang Creek runs under a nicely paved bridge in a seldom traveled part of the countryside. It was actually one of the few creeks in this area that was big enough to contain water even during a summer drought. Although it might be a friendly looking body of water during the daylight hours, night swimming in the wild is quite risky and you are constantly aware of the threat of being eaten by an errant sea monster lurking under the surface of the dark water. Add this to the distinct possibility of having the constable's spotlight shining on your half naked body and a ticket for trespassing, and you felt like James Bond breaking into Goldfinger's hideout.
On one side of the road was a wide creek with a soft bank perfect for lying under the stars and talking, while on the other side of the creek was a pretty high cliff which was usually used as a diving platform after enough liquid courage had been consumed. As the girls laid on their backs in wet underwear (no skinny dipping for us) listening to Peter Frampton from a car stereo we would watch the boys jump to their almost certain deaths, and talk about other boys, graduation and big plans for the future. We had no idea how lucky we were to be at that very place at that very time without a care in the world.
After a night of too much laughing, too much drinking and just too much fun in general, we would frequently descend on someone's house like a swarm of hungry locusts. We really couldn't have had it better. Since half of my friends came from Czech/German homes, which were affectionately known as Bohemians, and the other half of them came from Mexican homes, we had an invitation to an international buffet anytime we craved it. The Mexican mothers usually had lots of fresh tortillas or homemade tamales while the Bohemian mothers would have a refrigerator full of slightly more exotic ingredients. One good friend's mother would usually have a kind of a terrine of sorts that consisted of pigs' feet, bay leaves and peppercorns in jelly that would be cut in slices and have white vinegar drizzled over it. I know that it sounds a little gross, and it was a bit, but it was also pretty fun to eat at midnight. Follow this up with a piece of her heavenly poppyseed cake or one of her summery peach kolaches, and even the most voracious case of munchies was satisfied for the night.
Don't worry, I'm not going to do pig's feet in jelly this time. I would like to do it some day because it really is delicious and it is just one of those heirloom recipes that should be keep alive. I thought this time I would do a Mexican style dessert recipe that everyone will just love. It is really easy and the results are spectacular.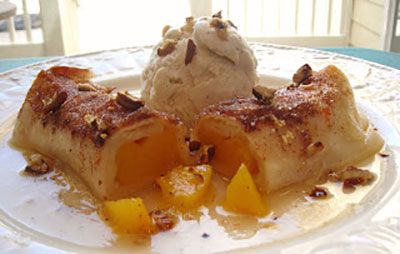 Peachy Mexican Dessert Burritos
1 cup (250ml) water
1 cup (211g) sugar
½ cup (125ml) peach schnapps (delicious but optional)
½ cup (113g) butter
Pinch of salt
8 – 8" flour tortillas
1 large tin (29 ounce/822g) peaches drained and cut into bite size pieces
2 tablespoons (30ml) granulated sugar
1 teaspoon (5ml) ground cinnamon
½ cup chopped pecans, toasted
Place the water, sugar, schnapps, butter and salt in a medium size saucepan over medium heat and bring to a simmer. Cook until butter is melted; set aside until ready to use.

Lay one tortilla on a clean, dry surface and place a couple of heaping tablespoons of the chopped peaches in a strip slightly off center of the middle of the tortilla. Roll the tortillas up in a cigar fashion starting with the long side parallel to the peach strip. Place side by side in an oblong baking dish that has been sprayed with non-stick cooking spray. Pour the sauce gently over the top of the burritos; cover and set aside for 1 hour.

Preheat oven to 350 degrees/180C/ Gas mark 4.

In a small bowl combine the sugar and cinnamon. Sprinkle over the top of the burritos and place the dish in the preheated oven. Bake for approximately 30 minutes. Dish should be golden brown and bubbly. If dish starts to brown too much, cover with foil and return to the oven for the remainder of baking time. Remove from the oven and cool for 10 minutes.

While burritos are cooling, place the chopped pecans in a non-stick frying pan that has been set over a medium high heat. Watching carefully and stirring frequently, toast the pecans to a medium brown. Transfer to a plate to cool; set aside until ready to use.

Place one cooked and slightly cooled burrito on a serving place and drizzle a couple of tablespoons of the syrup over the top. Serve warm with a scoop of vanilla ice cream and a sprinkling of the toasted pecans. If you don't care for peaches or want to change things up, feel free to use cherry or apple pie filling instead.

Serves 8