For anyone that has been reading my blog for a while now, you may know that my family loves us some summer road trip. My husband, son, daughter, our dog Scruffy and I have traveled north, south, east and west in search of summer fun. It never fails that no matter where we go, we usually have as big an adventure on the road as we do at our destination.
One particular summer several years ago, we decided to head east from our south Texas home and visit Disneyworld in Orlando. Usually, as soon as we finalize our destination plans, Mr. H pulls out his old-fangled road atlas plotting the trip with his special mathematical formulation of miles per hour minus wind speed, multiplied by miles to travel, divided by potty breaks squared, to come up with an approximate estimated time of arrival that we never seem to live up to no matter how hard he tries.
The day before we leave our fearless leader cleans our car like the Queen of England herself will be riding with us. He fills every available drink holder with water bottles, checks fluids and brakes and replaces wiper blades that show even a hint of wear. Helio Castroneves would be lucky to have him on his pit crew.
Soon after his "rules of the road" talk we're off. By the time we reach our destination, my poor husband's ship shape vehicle is no more than a trashed out French fry on wheels, but always the optimist he repeats the process for the drive back home just knowing that we'll surely do better on the road back.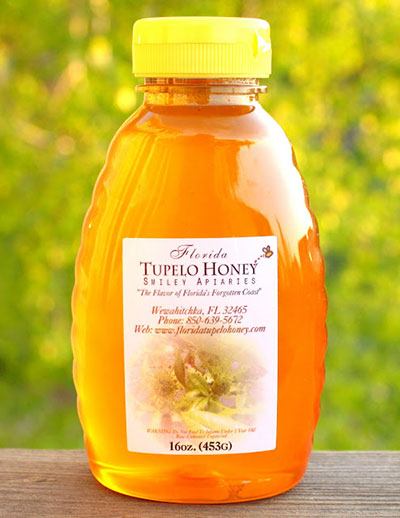 Even though we had some horrible weather on this particular trip through Louisiana, Mississippi, Alabama and Florida, I am really glad that we drove. Although flying is obviously faster, when you fly there are just so many wonders on the ground that you miss out on; sleepy little towns with local attractions like the world's largest alligator farm, my husband and son's dreaded factory outlet shops and roadside stands selling everything from vegetables and boiled peanuts to the greatest find of all, Tupelo honey.
When I mention Tupelo honey most people know the Van Morrison song or think it must come from Tupelo, Mississippi, and aren't aware that this is an actual type of honey which comes from bees that collect pollen from the Tupelo trees which grow in abundance in the Apalachicola River Basin of Florida. Only honey which is produced in this area is certified Tupelo Honey.
The honey itself is a delicate golden nectar with subtle floral notes that comes from the white Tupelo flowers, which I can only describe as perfection. Since honey from the black Tupelo flower granulates, it is almost used exclusively for commercial bakery purposes. Not knowing how delicious and addictive this honey would be, we only bought a 16 ounce jar before heading home.
Once home back in Texas and discovering its delicious flavor, we were left wishing we had bought much more. Since then I have ordered honey online and purchased every bottle I am lucky enough to find on the odd store shelf. To say that I am frugal is quite an understatement, so when I tell you that I pay on average $15 for a 16 ounce bottle; you know this stuff has to be good.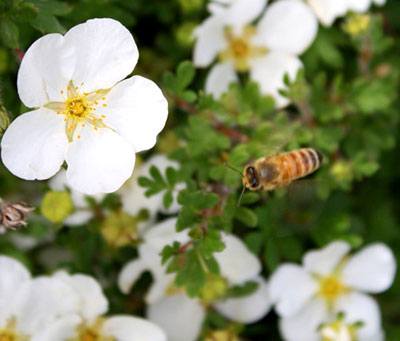 I find bees to be fascinating little creatures. While some bees are solitary, honeybees are quite social living in colonies, communicating chemically through pheromones and physically through waggle dances. Through their communication they locate nourishment in the form of pollen which enables them to make honey to feed themselves and their young, sustain their queen and build architectural wonders in wax.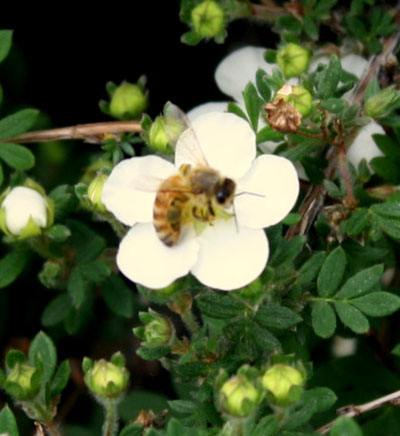 Not only is honey an important by-product of their pollen collection, but as bees buzz from plant to plant they also pollinate approximately 1/3 of the crops we depend on for food. It has been found that farmers who locate hives among their crops can see up to a 50% greater yield as opposed to those who depend on wild bees for crop pollination.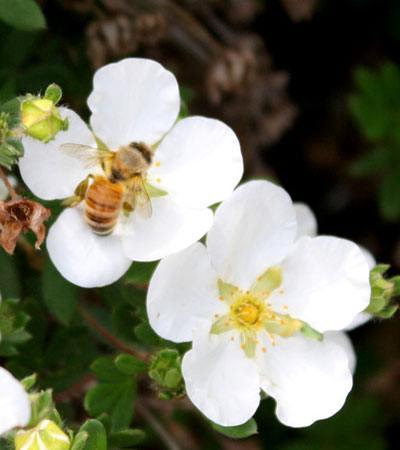 As I'm sure you may have heard, times are hard for honey bees as hives are dying in rapid numbers in what is now being coined Colony Collapse Disorder. Not only would the loss of bees mean no more honey, but their demise would also mean devastation to our food supplies. Viruses, mites, pesticides, miticides, hormone use, genetically modified crops, and migratory beekeeping are some of the suspects in the loss of hives around the world. Having said this I must also say that all is not necessarily lost as researchers are scrambling for answers and have been able to isolate some very promising leads.
In the meantime concerned honey lovers can help by being frugal with their use of pesticides, especially during the midday hours when bees are most active. We can also add such bee friendly plants as foxglove, bee balm and red clover to our gardens and beds.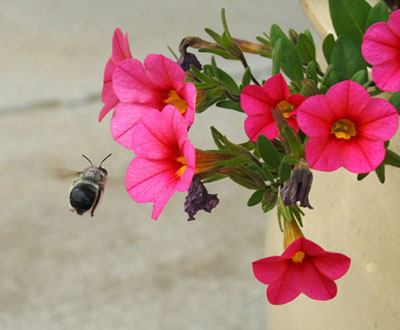 Even though this isn't a honeybee, this little guy loved pollinating my patio plants and terrorizing my dog.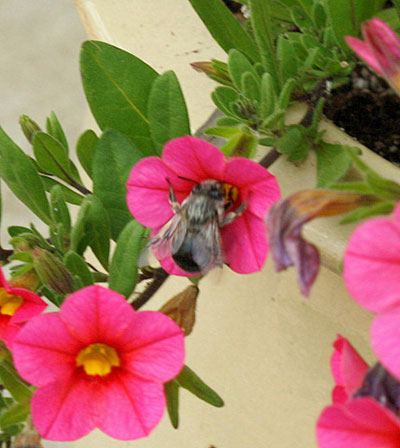 At my house we most often use local honey because I have always heard that since it is made from local pollen it helps build immunities to local allergens, but I have just had a craving for Tupelo Honey lately so I placed my online order. Normally I don't cook with it, preferring to save it for a starring role in honey mustard dressing or in my tea. While I still prefer it this way, I stepped out and added it to one of my favorite yeast roll recipes. No matter how hard I try to describe these rolls, my words fail to accurately portray how soft, chewy, sweet and sticky these delicious rolls came out with that distinctive Tupelo honey flavor.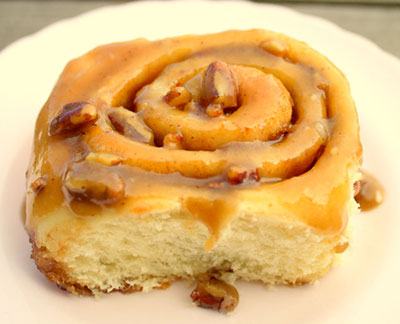 Tupelo Honey Buns
Sweet Dough (Adapted from The America's Test Kitchen Family Cookbook)
3/4 cup buttermilk (regular milk and 3/4 teaspoon white vinegar that have been stirred together and allowed to sit for 5 minutes can be substituted)
6 tablespoons (3/4 stick) melted butter
3 large eggs
4 cups flour, plus a little extra for dusting
1/4 cup sugar
1 envelope rapid-rise yeast
1 1/4 teaspoons salt
Mix together buttermilk, butter and eggs; set aside. In a large heavy duty stand mixer fitted with a dough hook, mix the flour, sugar, yeast and salt. With the speed set to low, slowly add the buttermilk and mix until the dough starts to pull away from the sides. Knead in the mixer on the low setting for about 5 minutes adding a little extra flour if necessary. Increase the mixer speed to medium low and continue kneading for an additional 5 minutes or so or until the dough is smooth and elastic.
Dust the counter with flour and knead by hand for another minute or so to form a smooth, round ball. Place the dough in a greased bowl, turn to coat, cover with plastic wrap and place in a warm draft free place to rise until doubled in size, approximately 1 –1/2 to 2-1/2 hours.
When the dough has doubled in size, lay it on a lightly floured surface. Press the dough into a 12" by 16" rectangle with the long side facing you.
Brush the dough with the two tablespoons melted butter from the filling ingredients (recipe follows).
Sprinkle the filling evenly over the dough, leaving a 3/4" border along the top edge. Press the filling lightly into the dough.
Starting at the long edge closest to you, roll the dough into a tight cylinder, pinching it closed at the clean border. Roll the cylinder over so it is seam side down.
Using a long piece of dental floss, cut the dough into 12 even size pieces. To do this, slip floss under the cylinder, stopping in the middle. Pull ends together over the top and crisscross. With an end in each hand, pull ends in the opposite direction very firmly and quickly to cut. Repeat with the remaining dough.
Arrange the dough cut sides down in a greased 9" x 13" baking dish. Cover with plastic wrap that has been sprayed with non-stick cooking spray and place in a warm spot and let the rolls rise until doubled in size, approximately 1 hour.
Preheat oven to 350 degrees.
Place rolls in the preheated oven and bake for approximately 30 minutes or until they are golden brown.
Remove rolls from the oven and drizzle with Honey Glaze (recipe follows) before serving.
Filling
2 tablespoons butter, melted
3/4 cup lightly packed light brown sugar
2 teaspoons ground cinnamon
Combine the brown sugar and cinnamon in a small bowl and stir well to combine.
Honey Glaze
3 tablespoons butter
1/2 cup lightly packed light brown sugar
2 tablespoons Tupelo honey (or any other favorite honey)
1/2 cup toasted pecans
Place butter in a small saucepan and over medium heat. When butter is melted and sizzling, add the brown sugar and cook until it has dissolved. Add the honey (spray measuring spoon with non-stick cooking spray before using for easy honey measuring) and pecans and stir until they are heated and well combined. Drizzle over warm rolls.