My daughter is home from college for the summer. I have the next three months to sleep soundly at night knowing where both my children are when I go to bed. I going to savor this because I know that my days are numbered. I figure that just about the time she settles down and begins life on her own, my son will start up with all of the normal teenage shenanigans, breaking curfew, talking back and the worst of all, driving (and that's if we're lucky); so I am really going to enjoy the next few months.
Since she will be cooking for herself next year at school, I decided that it was time to teach my daughter to cook in earnest. During her first year at university, she was required to live in on-campus accommodations which included her meals. Now I'm not saying that the food was great, I'm just saying that it was pretty good, well, kinda. At first she loved being free from my pattern of protein, carb and veg for supper. She was free to have whatever she wanted. If she wanted nothing at all, that was her choice too. Her life was good. By the end of the school year, she hated even walking by the dining hall. She tugged at my heartstrings by reporting that her suppers usually consisted of cereal and chips. I really hated it not so much because it was going to kill her but because we were paying about $8.00 a meal for Cinnamon Toast Crunch and fried potatoes. My son's going to love college.
I decided that the first few things I would teach her would be something easy that looks hard, so she can be a rock star in the kitchen just like me back in the day (see The Patron Saint of Gravy posting). We made a date, she broke it. We made another date and she broke that too. My lecture soon followed about how she's going to be sorry when she's back at college and all she can cook is grilled cheese, scrambled eggs and French Toast. Just about the time I settled into a comfortable state of righteous indignation and figured I'd have the last laugh, her miracle happened. She was notified that she had won $11,000 in her first recipe contest. Boy, that shut me up.
I'm still waiting to give her that first lesson but, I think I'll wait for her to ask me. Until then, I'll be in my mommy fantasy world, planning on the dishes we will lovingly prepare together someday. One of the first recipes I'm going to show her how to cook is one of her favorites, a recipe that I call Ultimate Artichokes. It is my lighter version of a dish that we discovered at our favorite restaurant in Maui. If you stumble across some artichokes on sale at the grocery store, pick up a couple and prepare this simple recipe. It is a slight, yet nice departure from the same old same old steamed artichokes with butter and lemon.
The second recipe is one that might be a bit advanced for beginners but it goes so well with the artichokes that I'm going to add it to the line up anyway. This same restaurant in Maui greets their diners with this Jalapeno Pizza bread and it is enough for a meal in itself. I personally think that this, along with the gentle ocean breeze blowing through the open windows, just may be the reason for their success. In my humble opinion, one of these artichokes, a couple of slices of this bread, a cold glass of Pinot Grigio and my gorgeous family, are the components of a perfect meal, no matter where we eat it.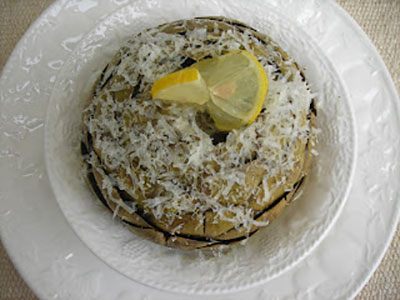 Ultimate Artichokes
2 large artichokes with thorny tips trimmed
1 large or two small lemons, divided
1 – ½ cups (375ml) water
2 teaspoons (10ml) vegetable (or chicken) bouillon granules or soup base
1 large garlic clove, finely minced
3 tablespoons (45ml) butter
Freshly milled black pepper
1 – 2 ounce (30 – 60g) piece of good quality Parmesan cheese
Rinse artichokes thoroughly. Cut the lemon in half and rub one half all over the artichokes. Pour water in the bottom of a large sauce pan. Bring the water to a simmer over medium high heat and stir in the bouillon and garlic. Place artichokes in the pan and cover with a tight fitting lid, reduce heat to medium and cook for approximately 45 minutes.
After cooking time, carefully remove the lid and lift one of the artichokes out of the pan with a pair of tongs. Holding firmly, turn artichoke to the side and pierce the bottom middle with a fork. If the fork inserts easily, the artichoke is done. Transfer cooked artichoke to a plate and cool until it can be easily handled; reserve the liquid in the pan.
Gently spread the center leaves of the artichoke and remove them by pulling firmly. Spread the outer leaves from the center and gently push outwards. With a tablespoon, scrape the choke from the heart and discard. Push the leaves back towards the center to keep warm.
Taste the liquid that remains in the pan. There should be at least one cup of liquid in the pan; if not, add a bit more water. If more water is added, a bit more bouillon may needed as well depending on taste. Return the saucepan with the liquid to a medium heat. Whisk in the butter and about a tablespoon of the lemon juice. Taste liquid and add more of the lemon juice if desired.
Place the artichokes back in the saucepan if needed to heat back up or place in a shallow bowl. Gently spread the leaves and pour equal amounts of the liquid in the middle and around the edge. Top with a grinding of black pepper and a good grating of the fresh Parmesan cheese.
Serve immediately.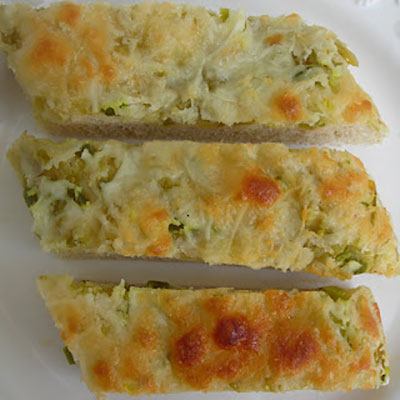 Longhi's Jalapeno Pizza Bread

Normally, I try to feature only my own recipes or my own unique version of the recipes of others, but I'm going to make an exception here. Other than just a few small changes, I felt I couldn't improve much on this delicious recipe. Knowing how hard it is to sometimes find canned green chiles in the UK, just blacken a couple of green bell peppers under the grill or on the barbeque and use them instead. It doesn't take much time and is so worth the effort.
1 – 4.5 ounce can chopped green chiles or 2 large green bell peppers, roasted and peeled with seeds and membranes removed, then finely chopped
2 -3 large pickled jalapenos (depending on how spicy you like it), finely chopped – A tablespoon or so of sliced pickled jalapenos can also be used. If you can't find these, roast a couple of fresh jalapenos (be sure to remove the seeds and membranes unless you want atomic bread) with the bell peppers and use them instead
2 cups (228g) bread or plain flour, plus a bit extra for dusting if necessary
1 teaspoon (5ml) salt
1 teaspoon (5ml) sugar
1 package dry active yeast
1 cup (250ml) slightly warm water
2 cups (227g) mozzarella or Italian blend cheese
1 tablespoon (15ml) cornmeal or polenta
Place the green chiles and the jalapenos in a small bowl and mix together; cover and set aside until ready to use.
In a large bowl or the bowl of an electric mixer fitted with the dough hook, add the dry ingredients, sprinkling the yeast over the top. Pour the water over the top of the dry ingredients and either mix with your hands or the mixer until the dough is elastic. Let the dough rest for approximately 15 minutes before dividing into 6 small balls of equal size then roll between floured hands to make a 12 inch long loaf. Place each log approximately 3 – 4 inches apart on a large lightly greased baking sheet that has been dusted with the polenta. Cover the dough with a piece of cling film that has been lightly greased and place in a warm place to rise until it has doubled in size. This should take about 1 hour.
Preheat oven to 350 degrees, 180 C, Gas Mark 4.
With a very sharp knife cut a slit down the middle of each piece of dough. Spread the equal amounts of the green chile mixture over the top of each with the back of a spoon covering as much of the top as possible. Sprinkle equal amounts of the cheese over the dough. Place in the preheated oven and bake for approximately 20 – 30 minutes or until the cheese is golden brown and bubbly. Cool for at least 10 minutes. Serve while warm or at room temperature.