It has been a very busy holiday season and I'm looking forward to getting back to normal for awhile. We made a flying trip to Texas from Colorado which, no matter how you slice it, is 1,000 miles of party fun in my car. Our children are big now so there isn't much whining, but still a quite a bit of sibling sniping just to keep us on our toes. I have to say that despite the obvious road fatigue, I really enjoyed our trip because for two days straight, it was just the four of us again.
I am originally from south Texas. I was born, raised, met my husband, and had one of my two children there. My entire family still lives there and every few years we have to make this journey to quiet the ache in my heart. The ache was great this year because my niece had just given birth to twin boys and we couldn't wait to cuddle with those two little guys. Needless to say, we weren't disappointed. The boys are beautiful and I am amazed at the grace with which their mother handles this often overwhelming responsibility. My sister should be proud, of the young mother she raised.
Our gatherings always include great food. I must report that I did indeed prepare my own version of Karen's Stilton Soup to rave reviews. The only downside was that my niece doesn't own an immersion blender (guess what she's getting next Christmas) so this ideally smooth soup was a bit heartier than planned. I know, I know, I can pour the soup into the bowl of a blender and blend it. I tried that once and am still nursing a few burns and cleaning soup off the ceiling. Other than that the Christmas Eve meal, which included grilled beef steak, smoked turkey breast, jacket potatoes and Greek salad, went off with out a hitch.
Christmas day was a bit more "Texas down-home" than the night before. My nephew had ordered a smoked turkey and ham so my sister and I came up with the side dishes. We prepared a cheesy green bean casserole (hey, don't gag, it's really delicious), cornbread spoon bread and mashed potatoes (my son's request). For dessert I have started my own tradition of preparing a beautiful, dense yet light crème caramel. I just love how perfectly it turns out time after time. An extra bonus is that it can be made up to two days in advance of serving time so it works really well for entertaining.
Wrapping it up, we spent New Year's back home in Colorado. A tradition in the south part of the US is to have black-eyed beans on New Year's Day. It is supposed to bring good luck and heaven knows, with the economy in the toilet, I'm not about to tempt fate. This brings me to my second recipe offering, Hoppin' John. Legend has it that this recipe was brought from Africa with the slaves in the early days of America. I really encourage you to invest in a tin of beans, and give this a try. I do have to apologize for the photo. You win some, you lose some.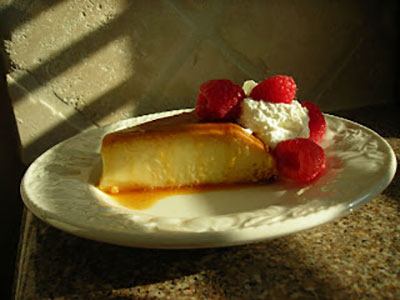 Creme Caramel
1 cup (196g) sugar
3 eggs, room temperature
3 egg yolks, room temperature
2 teaspoons (10g) vanilla extract
1 – 14ounce (396g) tin sweetened condensed milk (such as Nestle Milk)
1¾ cup (450ml) full fat milk, warmed to room temperature
2 ounces (60g) cream cheese, softened to room temperature
Seasonal berries and whipped cream to garnish
Preheat oven to 350 F, 180 C, Gas Mark 4.
Pour the sugar in a medium sized non-stick saucepan over medium high heat. Stirring sugar frequently, allow it to liquefy and turn a walnut brown. After sugar begins to turn brown, watch it carefully so it does not burn. Pour liquefied sugar in the bottom of a 2 litre glass pan. Working quickly, swirl the caramel around the bottom and up the side of the pan about 6 cm, to coat; set aside.
Place the eggs, yolks, vanilla extract, sweetened condensed milk, milk and cream cheese in the bowl of a food processor or blender. It is really essential that all of the ingredients be mixed together at room temperature to prevent the cream cheese chilling and turning into small lumps. If this happens, simply cover the ingredients and allow them to warm to room temperature on the counter top for 30 minutes or so before proceeding. Process or blend for at least 5 minutes.
Pour the mixture in the prepared glass pan. Place in the centre of the oven. Prepare a water bath by placing the filled pan in the middle of a larger pan and pour boiling water into the larger pan so that it comes half way up the sides. Bake for 60 – 70 minutes, or until a knife inserted in the middle comes out clean. If mixture begins to brown too quickly, cover loosely with aluminum foil.
Remove from the oven and allow to cool completely in the water bath before removing. Place in the refrigerator and chill for at least 2 hours. Before serving, run a knife around the edge to loosen. Place a deep sided serving dish on top of the pan. Invert on to the serving dish, pouring all of the caramel left in the pan over the top.
Slice creme caramel into 8 equal slices. Serve with caramel, whipped cream and seasonal berries if desired.
This dish can be prepared up to 2 days in advance. Be sure to bake, cool and cover with cling film before storing in the refrigerator until ready to serve.
Serves 8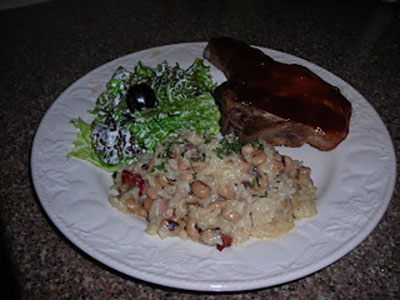 Hoppin' John
4 rashers streaky bacon, sliced into 1cm slices
1 tablespoon (15ml) vegetable oil, if needed
½ small onion, finely diced
½ small green bell pepper, finely diced (alternatively or in addition to the bell pepper, use 2-3 large chopped jalapeno peppers that have had their seeds and membranes removed)
1 large stalk celery, finely diced
1 large clove garlic, finely minced
1 teaspoon (5ml) dried parsley
1-1/2 cups (375ml) water
½ cup (125g) jasmine rice
1- 15 ounce (411g) tin black-eyed beans, drained and rinsed
2 tablespoons (30ml) butter
4 tablespoons (60ml) single cream
Salt and pepper to taste
Fresh coriander or parsley to garnish
In a medium sized saucepan, place the bacon pieces and sauté over medium high heat until the fat starts to turn brown around the edges. If bacon is very lean, add the tablespoon of oil to provide enough fat for cooking the vegetables. Add the onion, bell pepper, jalapeno and celery to the pan; sauté for until vegetables begin to soften. Add garlic and parsley and sauté for 1 minute longer.
Add water to the vegetables and bring to a boil. Add the rice, give it all a good stir and quickly reduce heat to low and cover. Allow contents to simmer until all of the water is absorbed, approximately 20 minutes. Add black-eyed beans, butter and cream; heat through. Add salt and pepper to taste. Sprinkle with fresh coriander or parsley.
Serves 4 -6