When I was a child Valentine's Day was just another in a long line of magical celebrations for me. In school art class we would decorate shoe boxes with bright red wrapping paper and glue sparkling glitter hearts all over it in preparation for our class party. I would leave mine on my desk top secretly praying that my school yard crush would put that one extra big card (that always came in the box of 36) in mine. I'm pleased to say that more often than not, all of my Valentine dreams came true.
I'm not sure when Valentine's Day went pear shaped for me. One thing that I do know is that during my 20s I grew to really dread February 14th. I don't know about the UK but, in the US the television and radio ads somehow made you feel like you were the only person in the country that would not be celebrating a totally romantic evening with champagne, roses and diamonds handed to you lovingly by a Brad Pitt look a like. Well, those ad campaigns only aided in convincing me that I was indeed the loser in love that I had already convinced myself that I was.
This unlucky streak held true until I married my husband. Our first couple of years were as romantic as they should have been including our second Valentine's Day together when we walked out of a restaurant only to have the valet drive up in a red convertible with my name on it. WHAT A GUY! This gesture instantly made up for all of those years when I had dined at McDonald's with my girlfriends on Valentines Day. Little did HE know, in my estimation, he had set the bar awfully high for himself in the years to come. Little did I know, he was thinking that he was pretty much done, forever, with every Valentines Day (or any other occasion that popped up) for the rest of our married lives. That sums it up right there ladies and gentlemen, the difference between men and women.
Two years later, I gave birth to this wonderful man's first child. She was a beautiful, pink package of squirming, screaming love. We were absolutely smitten with this beautiful baby. To mark this wonderful occasion, my husband didn't give me a sparkling band of diamonds or even a dozen red roses (though I have to admit I expected both), this man gave me a refrigerator magnet. Yes, that's what I said, a refrigerator magnet. Just so you can get the proper picture drawn in your mind, this magnet was of a purple wolf howling in front of a yellow moon wearing an orange bandanna around its neck. If that's not just the perfect first baby gift to your wife, I don't know what is. What happened to the wonderful convertible man from a couple of years ago? Needless to say, he has had to live with this decision pretty much everyday for the last 18 years. Let's just say, its a good thing he has provided me with two beautiful children and a wonderful home all of these years. That still makes him pretty fantastic.
Yesterday, Mr. Fantastic was still resting on his laurels when he gave me a DVD and two packages of breath mints (is he trying to send me a message?). We had an argument and, if I could remember what it was all about, I'm sure I could tell you I was right. I landed up taking Scruffy for a walk (because he thought I was right too) and made hamburgers for dinner. Had I been more in the spirit of things I would have made the following beautiful swordfish dish for dinner. I guess there's always tonight.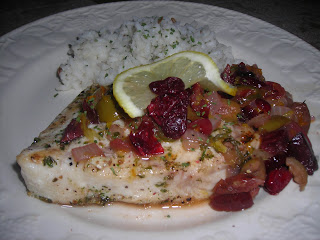 Spanish Style Peppercorn and Herb Encrusted Pan Fried Swordfish Steaks with Spicy Cranberry Olive Relish
6 tablespoons (90ml) light olive oil, divided
1 (5ml) teaspoon finely chopped fresh rosemary
1/4 (1ml) teaspoon finely chopped dried thyme
1 (5ml) teaspoon finely chopped fresh parsley
1/2 (2.5ml) teaspoon green peppercorns, crushed
1 (5ml) teaspoon multi-colored peppercorns, coarsely ground
2 ½ (12.5) teaspoons salt, divided
½ (2.5) teaspoon garlic powder
3 tablespoons (45ml) freshly squeezed lemon juice, divided
4 – 6 ounce swordfish steaks (750g) – approximately 1" thick, skin removed, washed and patted dry
1 tablespoon (45ml) butter
1 small sweet yellow onion, coarsely chopped
½ medium size orange bell pepper, coarsely chopped
2 cloves garlic, minced
1 cup dried cranberries
½ cup nicoise olives, sliced in half
2/3 cup (160ml) cranberry juice cocktail
1 large jalapeno pepper, sliced in half lengthwise and then thinly sliced across
½ teaspoon (2.5ml) lemon zest
1 ½ tablespoons (22.5ml) chopped fresh coriander to garnish
In a small bowl, combine 2 tablespoons of the olive oil, rosemary, thyme, parsley, peppercorns, 1 ½ teaspoons salt, garlic powder and 2 tablespoons lemon juice. Mix well and spread one half of the mixture on one side of the swordfish steaks. Turn Steaks over and spread the remainder on the other half of the swordfish. Cover and set aside to marinate for at least 30 minutes.
Preheat oven to 250F, 125C degrees.
Pour 2 tablespoons of the olive oil and the butter into a medium size frying pan that has been set over a medium heat. At the same time, preheat a stove top grill pan or large non-stick frying pan over medium high heat. To the medium size frying pan, add the onion and bell pepper to the oil and melted butter; saute until they are tender crisp, approximately 4 minutes.
Spread the remaining 2 tablespoons of olive oil evenly in the bottom of the preheated grill pan. Place the marinated swordfish steaks in the pan and cook for approximately 5 minutes on each side or until they are just cooked through. Remove them from the pan, transfer to a heatproof serving platter, cover and place in a warm oven until ready to serve if needed while you finish relish.
To pan with the onion and pepper, add the garlic, dried cranberries, olives, jalapeno and the cranberry juice cocktail and the remaining 1 tablespoon lemon juice; saute for 2 minutes to heat through. Add salt to taste with the remaining 1 teaspoon. Sprinkle with the lemon zest and toss gently to incorporate into a relish. Keep warm until ready to use.
Place each swordfish steak on one of four warm serving plates. Top each with equal amounts of the cranberry and olive relish, sprinkle with the fresh coriander and serve immediately.
This dish is delicious served with crispy fried potatoes or fennel rice.