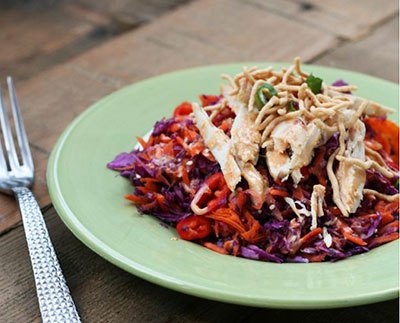 For the first time ever I am turning my site over to a guest blogger, but don't worry, I am leaving you in good hands.  Haley over at Cheap Recipe Blog has agreed to share one of her health conscious, delicious and budget friendly recipes with us here today. Her blog is just filled with tons of great recipes just like this one.  My new favorite is her Challah Bread Pudding with Chocolate and Caramel Sauce, so be sure to visit her site after you've enjoyed her post here today.
Hey Savoury Table readers! This is Haley from Cheap Recipe Blog, and I am super excited to be guest posting on Karen's blog today. I connected with her last year after discovering one of her recipes on Foodgawker.  We recently agreed to do a guest blog swap, which is why I'm sharing this recipe with you today.
I love how effortlessly Karen goes from cheap and simple crowd-pleasing recipes (like her "Something From Nothing" creations) to fancy schmancy, impress-your-friends dishes (like duck empanadas with smoked tomato mayo). And let's not forget her desserts! She's got this recipe blog thing down pat.
About My Recipe
So as you may have guessed by the title of my blog, I am all about cheap recipes. Specifically, cheap recipes that are healthy and taste awesome. This particular recipe fits all of my criteria:
It's cheap. About $4 for 4 servings. Booyah!
It tastes awesome. Trust me on this. This salad is great whether you serve it to your family as a main course, or whether you divide it up for individual lunches throughout the week.
It's healthy. Especially if you go easy on the dressing J
Today, I make budget cooking a priority. In doing so, I have discovered time and time again that cheap cooking can be delicious and healthy. One of my favorite tips for saving money on groceries – and one that I have implemented in this particular recipe – is to buy fruits and vegetables in their natural state (versus buying produce that has been pre-cut, pre-washed, etc.)  I was able to save about a dollar by purchasing a head of cabbage and chopping it myself, versus buying a bag of pre-shredded cabbage.
The dressing for this salad is my own spin on Savoury Table's "Something from Nothing" concept. It uses ingredients that you likely have on hand, saving you money and quite possibly a trip to the grocery store. This dressing is good on pretty much any Asian-style salad. Give it a go!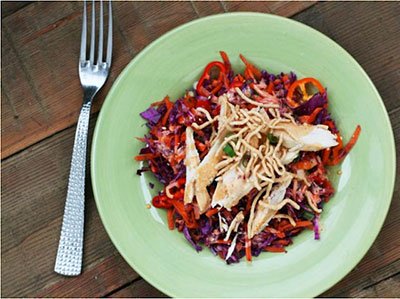 (Budget-Friendly) Chinese Chicken Salad Recipe
Salad ingredients:
1 small head of purple cabbage
3 carrots
3 red Fresno peppers (if you want a little heat)
4 green onions
1 cup chopped rotisserie chicken
Chow mein noodles, for topping
Makeshift Asian-style dressing:
1/3 cup real mayonnaise
2 tablespoons sugar
1 tablespoon soy sauce
2 teaspoons rice vinegar
Pinch of cayenne pepper
Instructions
Shred cabbage and carrots in a food processor or by using a food grater. Chop peppers and green onion.  Set aside some of the green onion for topping the salad. Toss vegetables together in a large mixing bowl. Place on individual serving plates. Top with chicken, chopped green onion, and chow mein noodles.
Whisk all salad dressing ingredients together in a small bowl. Spoon desired amount of dressing over each salad and serve.