My two grown nieces just left here after a five day visit. My younger niece, Kheili had flown up for a friend's wedding and her sister, Melanie had decided to come with her. All of this just happened to take place on my birthday weekend which made it doubly special for me. Accompanying them, were Melanie's thirteen month old fraternal twin boys, Harper and Hayes. I don't even know where to begin with these two. Everyone says that the babies in their families are cute and these boys are no exception. They both have red hair so they make absolutely everyone smile as soon as they see them. I mean, you KNOW that these two are trouble. They have creamy white complexion with rosy red cheeks and noses to match. My arms ache as I write about them. My niece and her husband affectionately call them "Big Truck" and "Pretty Boy" so let me tell you, in case you haven't gotten the picture, they are cute with a capital "C" times 2.
For a couple of days prior to their arrival we dug through drawers, in tops of closets and under beds trying to find things to amuse our two little visitors without sending them to casualty. We came up with a few things that were pretty much left unscathed by my son Kevin's own childhood; a big yellow bucket of plastic Duplo blocks, a squishy yellow spiked ball, a couple of plastic handled cups (I know kind of lame but they loved them) and a 14" tall Robocop doll (sans removable arms) that now only repeats two of his four original sentences "Hands up Creep" and "Drugs are trouble." I kind of like this toy because I believe that boys are never too young or too old to hear an authoritative voice shout these two phrases just in case they ever consider coloring too far outside of the lines. Kevin is a great kid at 14. You never know, maybe we have Robocop to thank.
It has been a long time since we have had to suffer the agonizing effects of toddler toys in the floor. I have forgotten how stepping on a Duplo block in tender bare feet will bring a toddler, teenager or grown-up to their knees. Who needs land mines? Throwing a couple of hundred of these babies down in the dark would be a great booby trap for wartime combat. All you would have to do is figure out how to get the enemy's shoes off. On second thought, that might be a bit cruel and unusual even for the worst of enemies. It was with great relief that I placed them back at the top of the closet where they belong.
After an action packed five days, a couple of bottles of good wine, lots of great food which included two birthday cakes (one tasted so good, we went and bought another), I sadly watched my two beautiful girls pack up that precious little wrecking crew and board the plane bound for Texas. I wish we'd gotten to the zoo like we planned but there just weren't enough hours in the day. It's all that napping, crying and diaper changing that are the big time wasters. Now all that's left are a couple hundred thousand fingerprints and a wheelie bin full of "wild" nappies. Thank goodness, the trash man cometh.
I'd love to end this story with a paragraph about how much those little boys just loved my garlic mashed potatoes or my Bistro Chicken more than anything they had ever eaten but I'm afraid that's just not the case. I think that they really loved my Jell-O Jigglers the best and there's not much of a story in that. I've decided I'm going to share my recipe for Barbequed Pizzas with you here today. I have been wanting to find the right time to share this recipe with you all summer long and I guess that it's now or never. If you have never cooked your pizzas on the barbeque, please give this recipe a try before the cold weather chases you inside for the winter. It is such a treat. The crust is crisp and very reminiscent of rustic brick oven pizza. We dined on these the second night the girls were here with a crisp salad dressed in a French vinaigrette and a cold Pinot Grigio. You do have to plan ahead a bit and mix the crust together at least 8 hours in advance but it's worth the effort because it's so easy to throw together at meal time.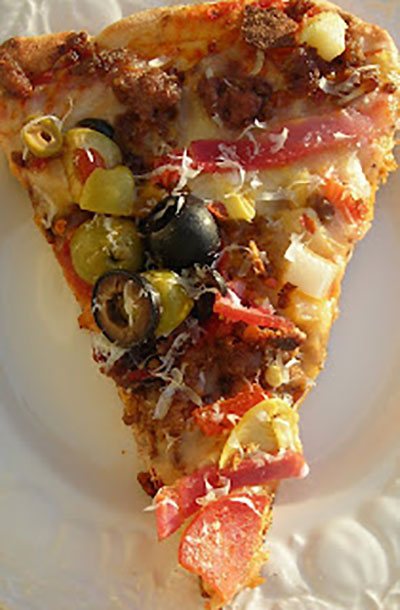 BARBEQUED PIZZAS
If you've run out of end of summer garden party ideas, here's one for you. I cook one side of the pizza base on a well oiled barbeque grill. If you have a gas grill, you can do this well in advance of your party, it's a real time saver. Then when I'm ready, I heat my barbeque back up and have my guests place their favorite toppings on the cooked side from a topping bar that I have set up and then I return the pizza to the grill to finish the cooking process. Everyone has a great time with this, especially children. This recipe makes 4, 8 – 10" pizzas. I really prefer fewer toppings rather than more. The simple flavors of tomatoes, cheese and maybe a few artichokes or a sprinkling of pancetta is perfection. This recipe can be easily stretched by adding an additional cup of all-purpose flour without the addition of any other ingredients to the dough. I call for all purpose flour here because I prefer the crispness it produces as opposed to a chewier dough that some other flours may produce.
Pizza Dough
2 cups (320g) all-purpose flour
1 teaspoon (5ml) sugar
1 teaspoon (5ml) salt
1 – .25 oz package (7g) active yeast
1 cup warm water
4 tablespoons corn meal (optional)
Oil or non-stick cooking spray for the barbeque
Mix dry ingredients together in a large bowl. Form well in center and mix in water. Mix the dough until it forms a ball. Knead to a smooth, elastic texture. Place in a well greased bowl, turn over to oil all sides and cover with plastic wrap. Refrigerate for at least 8 hours.
After 8 hours, remove dough from the refrigerator and roll it out onto a well floured surface. Divided it into 4 equal portions, roll into round balls and flatten into discs that are approximately 1/8" thick. Dust a surface with ½ of the corn meal and place discs on surface to rise while you preheat the grill to medium high. Sprinkle the dough with the remaining corn meal, press gently with fingertips.
Brush preheated barbeque liberally with vegetable oil or spray with non-stick cooking spray. Place pizza dough on barbeque and close cover. Bake for approximately 5 minutes or until dough is golden brown; remove from heat and turn where cooked side is facing up. Top cooked side with crushed tomatoes or olive oil and desired toppings. Return pizzas to the barbeque and continue cooking until they are golden brown and bubbly. I'm fortunate in the fact that my barbeque has a cover and a top rack so I can move my pizzas up and they can benefit from the more intense heat at the higher level inside my grill so they get nice and brown. If the bottom begins to burn, transfer pizzas to the top rack of the barbeque. If you don't have a second rack, you may want to place it under your indoor grill or broiler for a minute or two to brown it a bit more.
Pizza Topping Suggestions
15 ounces (425g) tinned crushed tomatoes
Garlic infused olive oil
8 ounces (226g) thinly sliced fresh mozzarella or shredded Italian blend cheese
Sautéed asparagus
Sliced Mushrooms
Sliced bell peppers
Thinly Sliced Red Onion
Chopped tomatoes
Chopped artichokes
Roasted black or green olives
Chopped sun dried tomatoes
Italian sausage
Cooked Pancetta
Freshly grated Parmesan
Red Pepper Flakes