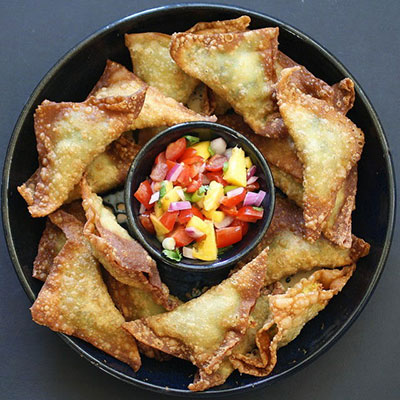 It was just shy of a year ago that I wrote a post about Hatch green chiles. These chiles which are grown in the Hatch Valley of New Mexico, are renowned for their delicious, bright and much sought after flavor. Starting now and for the next few weeks, the air in the west and southwest part of the United States will be heavy with the beautiful aroma of roasting chiles in front of most grocery stores and vegetable markets. This alone is a good reason for me to head to Whole Foods and pay too much for my groceries.
As I relayed in my earlier post, either the chiles on display were mismarked (that's my story and I'm sticking to it) or I picked up the wrong ones, but either way, in that post I identified Bueno chiles as Hatch. Little did I know, an expert, Preston from the The Hatch Chile Store, saw my post and quickly corrected me. Thank goodness I made this mistake, because after a couple of e-mails back and forth, Preston sent me some of his authentic Hatch chiles and we all lived very happily ever after.
Now it is Hatch time again and you better believe that I am checking the labels on my chiles before I put them in my shopping cart. Today, I am happy to say that I was able to score a pound of Hatch chiles and came home and decided to roast a few of them. The aroma is indescribably delicious. There must be something to this aromatherapy thing because everyone in the house seemed to be in a better mood once I got started.
With the chiles that I roasted today, I decided to make a little snack that really shows off the flavor of not only the chiles, but some of the Palisade peaches that my friend brought me back from the Western Slope. This easy little snack starts off with wonton wrappers that are filled with a combination of avocados, pepper jack cheese, cilantro and green chiles that are fried and then served with a peach pico de gallo. So good.
If you live in a place where you don't get fresh Hatch chiles, fear not! Preston and the folks at The Hatch Chile Store will be happy to ship some to you. If you can't get your hands on Hatch chiles, feel free to use you favorite green chile, just don't call them Hatch. You never know who might be watching.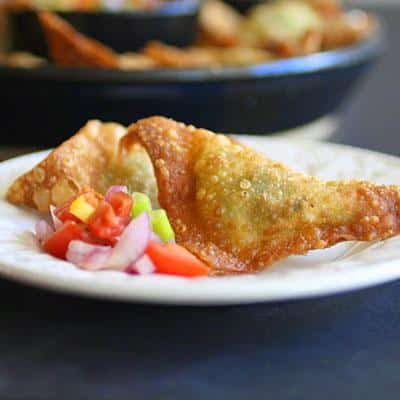 Avocado, Green Chile and Monterey Jack Wontons
2 – 3 medium size Hatch or your favorite green chiles (I like medium to hot chiles)
1 large ripe yet firm avocado, peeled, seeded and diced
4 ounces Monterey Jack, pepper jack or cheddar cheese, grated
1 green onion, finely sliced1 garlic clove, crushed
1 tablespoon chopped cilantro
1 squeeze of fresh lime juice
Salt and pepper to taste
Oil for frying
24 wonton wrappers
Place chiles under the broiler of your oven, on a hot barbecue grill or over an open flame on a gas stove. Cook until chiles are blackened and blistered. Remove from the heat and place in a covered container or sealed bag to steam. Once cooled, scrape blistered skin with the edge of a knife before chopping. 
Place chiles, avocado, cheese, green onion, garlic and cilantro in a large bowl; stir just until combined. Add lime juice, salt and pepper to taste and gently toss; set aside.
Heat a deep fryer or skillet with about 1″ of oil to sizzling hot. 
While oil is heating. place 4 or 5 wonton wrappers in a single layer on a flat surface. Working in these small batches, brush a little water on two sides of the wrapper. Spoon 1 teaspoon or so of the avocado filling into the center of the wrapper. Fold the dry side of the wrapper over the filling onto the wet side forming a triangle shape. Pinch the edges together. Repeat with the other wrappers. These wontons should be quickly assembled just before frying or the seals will dry out and open during frying.
Place as many wontons in your fryer as you can without crowding. If the wontons sizzle when they hit the oil, it is hot enough. Fry until golden brown, approximately 3 minutes. Repeat with remaining wrappers and fillings. Drain on paper towels, serve with peach pico de gallo (recipe follows).
Makes approximately 24 wontons
Peach Pico de Gallo
1 large ripe tomato, diced
1 medium size ripe peach, peeled, pitted and chopped
1 tablespoon chopped fresh cilantro
1 rounded tablespoon red onion, chopped
1 green onion, chopped
1 small jalapeno pepper, chopped (optional)
1 squeeze of lime to taste
Place all ingredients in a small bowl; stir to combine. Serve.