I find myself apologizing once again for the lapse in time since my last entry. I assure all three of my loyal followers that this has not been due to laziness but to the fact that I have been truly busy. Now, I'm not saying that I have been working on a cure for cancer but, between entertaining at Thanksgiving, my annual culinary discovery trip to England, and packing my daughter up for her holiday break from university, little time has been left for my precious little blog. Well, I have set today aside as the day to update my neglected project.
On December 4th I landed in Birmingham after layovers in both New York and Paris. It has been a long time since I visited JFK airport and I am here to report that I haven't missed a thing. The airport was confusing and the personnel unfriendly. When I finally arrived at my gate, after hiking through outdoor construction carrying an overstuffed carry-on bag and a second trip through security, I was more than ready to say my good-byes to New York.
I boarded my Air France flight to Paris and wasn't a bit shocked to discover that the seat next to me had been filled with a young woman who was less that happy to see me sit next to her either; while on the aisle across from us, four seats sat empty. Why do the airline Gods insist on doing this? If I can see the empty seats on the seating chart on the internet, why can't they? I certainly can't blame this phenomenon on the fact that this was an Air France flight because the American and British airlines are guilty of it too. I am happy to tell you all, that despite the intercom orders of the flight attendants to return to our assigned seats, I was able to stake my claim on those four unoccupied seats and comfortably slept most of the way to Paris.
The four hours I spent at De Gaulle airport weren't really much better than the two I spent at JFK. I was disappointed in the duty free shopping and a little bit worried about the lack of airport security. I reluctantly retired to my assigned gate and spent my remaining time in Paris freezing from an opened door, being climbed on and felt up by an ill behaved, unsupervised toddler, and watching the men's room peep show from a non-existent door in front of the urinals. Good Lord! Where was this child's mother?! During this time, I decided that we need to stop searching the caves of Afghanistan for Osama Bin Laden. He probably flew into Paris, crossed the border unnoticed through an unsecured airport door and is making all those threatening audio tapes from somewhere on the Riviera. Cased closed.
My dear friend and host, Karen, picked me up from the Birmingham airport and drove me to her home in Nottinghamshire. I love her village. The residents all seem to be truly happy and live together in harmony (with the exception of a little bit of tension over the new neighbors faulty chimney). Karen lives in the four hundred year old Manor House with her husband Chris, two teenage boys, Alex and Conor, and her elderly cat Sammy, who may just be as old as the house itself. All joking aside, Sammy is twenty-two and still hanging on. For the past five years or so, I have said farewell to him every time I leave knowing he will be gone when I return the next year. He is starting to really show his age, and he smells a bit, but he's still there to greet me year after year.
When I arrived, Karen was taking care of Chris and Alex who were both recovering from a case of the flu. She had made a pot of Stilton soup and fortunately I was able to get in on the last cup. Wow, how delicious! She had told me about this recipe many times before but, I had dismissed it as something I would get around to some day. I should have taken her more seriously. I am here to attest to the fact that this is the perfect dish to serve to any jet lagged guests that arrive on your doorstep.
After a few days at Karen's I met up with my friend Susan and her daughter Talia to join the two of them and Susan's husband Adrian for a couple of days. I love visiting Susan. Her home is just gorgeous. It is a very large stone structure surrounded by beautiful gardens that seem to always be in bloom. Besides her gardening talent, Susan is a great cook herself. I am fascinated by the delicious meals that come from her kosher kitchen. Since this is a style of cooking that is very different from my own, I love watching her in action. She is a true master of the home version of ready, steady, cook. She also has a great collection of cookbooks that keep me occupied while I am there.
After eleven days of cooking, eating, drinking and laughing, it was time for me to fly back home. My biggest challenge after my stay was to pack everything so no one bag exceeded the 50 pound weight limit. After much gnashing of teeth and wringing of hands, this mission was accomplished, barely. I checked my bags, flew back on two flights that were incredibly delayed and one slightly overcrowded. I arrived back home to two hungry and grateful men. It is always nice for them to have a refresher course on what life might be like without me. For the first couple of days, they love becoming reacquainted with the pizza man. For the last few, they can't wait to taste anything that is not pizza or tinned soup. I have to say, it is great to be home.
My recipe for this entry is inspired by my love for the UK. It is my well loved version of a spread that I discovered at the Stapleford Park Hotel. It is a combination of butter, cream cheese and Stilton or bleu cheese. I hope you'll consider making this for any holiday gathering where you need a quick and delicious little party nibble. Merry Christmas and Happy New Year!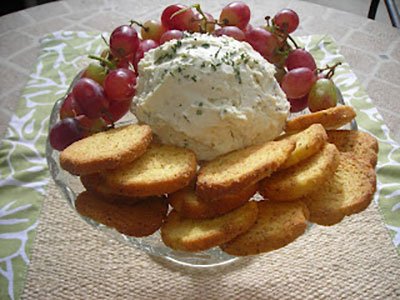 Stilton and Herb Spread
3 ounces (84g) Stilton or bleu cheese
3 tablespoons (45g) butter, softened to room temperature
3 ounces (84g) cream cheese, softened to room temperature
1 pinch (.5ml) cayenne pepper
¼ teaspoon (1ml) freshly milled black pepper
¼ teaspoon (1ml) dried thyme
¼ teaspoon (1ml) garlic powder
¼ teaspoon (1ml) dried parsley
2 teaspoons (10ml) fresh chives, chopped
Place the Stilton, butter, cream cheese, cayenne, black pepper, thyme and garlic powder in a medium size bowl. Blend with a fork until mixture is light, creamy and thoroughly combined. Gently fold in the parsley and fresh chives. Press into a small bowl that has been lined with cling film or a decorative serving bowl with the back of a spoon. Cover and place in the refrigerator to chill for at least 1 hour.
After chilling time, remove from the refrigerator. Serve in the bowl or mound on a serving plate. Serve with oat biscuits, crackers or apple slices. Alternatively, spread on crackers and top with plum or apricot preserves and, a sprinkling of chopped walnuts. This recipe is easily doubled for a larger party.