When I was a girl growing up in South Texas, it was good and hot by the beginning of May. Back then, women were governed by the old "no white shoes until after the end of May" rule. As a little girl, I felt immune to silly fashion rules. Easter rang in my summer season and brought with it flowing dresses, white patent leather shoes and hair bows as big as a birds' nests carefully clipped to the hair on the back of my head that was closely cropped into a never fashionable "Pixie" cut. Ugh, I hated that hairstyle and I bet that the pixies did too.
In addition to the changes in fashion, late spring and early summer also brought with it dewberry season. For those of you who are unfamiliar with these berries, they are, for all intents and purposes, wild blackberries. The women of my mother's family would walk the fences of my aunt and uncle's small farm or along the sides of endless country roads identifying future harvesting points. The berries would start out as little white blossoms perched atop deceivingly vicious tiny thorny rope like vines. Within a few short weeks, they would turn out to be plump aubergine colored berries bursting with juicy sweetness.
Personally, I preferred berry picking with my rather "round" great aunt, June. This hard working woman married my great uncle after meeting him at some stateside activity during WWII. She left behind her own family and her beloved Tennessee and moved with her new husband to south Texas. Like my own father, since she married into the family she was an outcast from the start. Also like my father, she seemed totally unaffected by the snubbing that she received from her family-in-law. She knew who she was, and she was definitely "all that." I loved this confidence and was drawn to her because of it.
When it was announced that the berries had reached their peak of perfection, we would carefully assemble all of the equipment needed to perform this task safely and efficiently. First and foremost, the proper receptacle was a must. The younger of us were issued some sort of bucket or a saucepan with a handle or, in a tight spot a waxed paper lined Easter basket could be used. It never failed that if the inexperienced picker used the much more advanced wash pan or bowl, major spillage could occur and hours of berry picking could be wasted; not to mention having to withstand the chorus of humiliating groans from your fellow workers.
On the way to our chosen berry patch, my sister, my cousins and I were all given the same warnings year after year:
1. Thrash the vines with the tips of your tennis shoe covered toes and watch where you put your hands because copperheads (snakes) love the berries as much as we do.
2. If that wasn't enough to rain on our parade, we also had to watch looping our feet under the previously mentioned vines. If they happened to secretly drape across your ankles, not only could you sustain a skinned knee, you would certainly snag your lace trimmed polyester socks and have to nurse tentacle looking scratches for days to come.
3. Go to the loo before leaving the house. Relieving yourself by the side of the road was a disruption of epic proportions to the adults in attendance because they had to stop their picking and fend off the snakes (or pretend to) that were certainly hiding in wait to bite our tender little bums.
Once at our chosen destination, the picking could commence in earnest. We picked, laughed and teased each other until we either filled our containers (and our bellies) or were completely overcome by the hot Texas sun. Without fail, one or all of us children would surely trip on a vine, skin our knees, tear our socks, scratch our ankles and have to go to the toilet roadside. I have it on good authority that the pain of wee soaked nylon socks touching vine scratches is truly excruciating. Finally after hours of this fun, we would head back home.
Back at my aunt's house, while all of us children played in the garden hose outside, the berries would be piled high on the counter top in the kitchen and the rinsing, draining and sorting would commence. During this process, my aunt June would be mixing lard (yep, you read right, lard; its a miracle we're not all dead) with flour, salt and water to make a dough so tender, that even her sisters-in-law had to concede defeat.
She would then lay a huge sheet of this dough into the bottom of a small turkey roaster, allowing it to drape around the corners to facilitate the proper post baking gooeyness. Next she would pour a dish pan full of the fresh berries that had been mixed with a bit of sugar and flour, into the dough. All of this would then be covered with a final sheet of dough, sprinkled with a mixture of cinnamon and sugar and dotted with a few pats of butter. Before sliding this into the oven she would poke several star shapes into the dough to vent. Beautiful.
I wish I could describe to you the smell that would fill her kitchen. Once you were able to cut through the faint scent of her leaky propane stove, the smell of the pastry mixed with the cinnamon and the fruity goodness of the fresh berries can only be described as heavenly. No wonder my uncle married her and stole her away from Tennessee. She must have baked him a cobbler.
I have never since tasted a berry pie of any description that could even come close to her masterpieces. Her cobbler baking days are over now but what a great tribute to her culinary talents to have a child remember your creations so vividly. This one's for you Aunt June.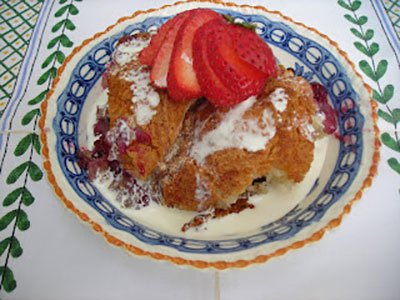 Quick and Simple Buttery Berry Cobbler
This is a super simple, lazy girl version of Aunt June's fresh berry cobbler. If you don't live in south Texas and don't have access to dewberry vines, you can use fresh or frozen blackberries, tinned peaches or cherries. This is really a versatile dessert so feel free to make it you own. I have taken this to countless dinner parties with rave reviews. I have shown it here topped with cold heavy cream (my personal favorite) but vanilla ice cream is delicious too.
4 ounces (113g) butter, melted (this amount can be reduced up to 1/2 but no more as the recipe dries out if reduced more than that)
1 cup (150g) plain flour, sifted, with 1 tablespoon (15ml) reserved if using fresh berries
1 cup (220g) granulated sugar, plus an additional ¼ cup (60g), with one tablespoon (15ml) reserved if using fresh berries
1 ¼ (6ml) teaspoons baking powder
½ teaspoon (2.5ml) salt
¾ cup (185ml) milk
1 teaspoon (5ml) vanilla extract
2 cups fresh dewberries or blackberries
½ teaspoon (2.5ml) ground cinnamon
Preheat oven to 350 F, 180 C, Gas Mark 4.
Melt the butter and pour it in the bottom of a 9" square pan. Set aside.
Sift the flour, sugar, baking powder, and salt into a medium size bowl. Add milk and vanilla. Mix well. Pour over the melted butter in the pan. Do not stir.
If your berries aren't sweet enough, pour them in a bowl and toss with a tablespoon of sugar and a tablespoon of flour before spooning over the batter. Do not stir.
In a small cup, combine the remaining sugar and cinnamon. Sprinkle evenly over the top of the cobbler.
Bake in the preheated oven for approximately 40 minutes or until cobbler is golden brown on top and set in the middle. If top begins to brown too much, cover with foil but it will lose some of its crispiness.
Serve warm with vanilla ice cream or heavy cream.
Serves 6 – 8