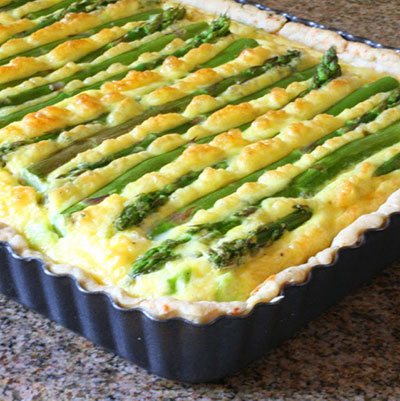 Time has really gotten away from me lately. It seems like everytime I turn around there is some sort of deadline looming that I need to attend to. Between putting these fires out as they pop up and tending to my everyday chores, little time has been left for my duties here.
Since my calendar on this beautiful Sunday is clear, it is the perfect opportunity for me to cook a little something for the pure enjoyment of it. Something that doesn't have to contain any qualifying ingredients or fit into any time constraints. Just whatever I have a craving for, with as many ingredients as I like.
It just so happens that I have had a bundle of asparagus in the fridge for a couple of days now. The stalks are fresh and beautiful and just the right size in diameter. Personally I don't really care for the super thin asparagus that is everywhere in the early spring. It cooks too quickly and turns limp as soon as it is heated through.
I like to wait for the stalks that are about the size of my pinkie finger. Any bigger and they are sometimes woody and tough, but at this time of year they are just right and I wouldn't want to waste a single bite. With these factors in consideration I decided to finally put a pan to use that I bought a couple of months ago and make an asparagus and cheese tart.
Kind of a kissing cousin to the strata I posted last time, it is different in the fact that it is a bit thinner and sits atop a flaky shortcrust base. Best of all it can be baked ahead and eaten at room temperature at your leisure, like after a long day of watching Jane Austen movies and swinging in the hammock.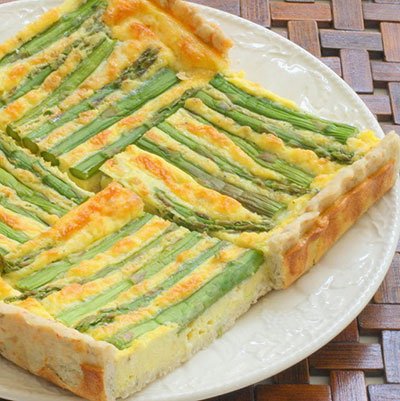 Asparagus Cheese Tart
1 recipe herbed pastry crust (click here for a link to the recipe)
2 tablespoons grated Parmesan cheese
2 ounces grated sharp cheddar cheese
3 green onions, white and light green parts thinly sliced
6 large eggs
1/2 cup heavy whipping cream
1 teaspoon Dijon mustard
1 garlic clove, crushed
1/2 teaspoon salt
1/8 teaspoon coarsely ground black pepper
1 pound of asparagus, ends snapped off so the stalks are just a bit shorter than the width of the pan
Preheat oven to 375 degrees.
Place pastry crust in a flan pan with a removable bottom or a pie pan that has been sprayed with non-stick cooking spray. Press crust gently against the bottom and sides of the pan. Lay a sheet of foil over the pastry and place beans or pie weights on top. Place into the preheated oven and bake for 15 minutes.
While the pastry crust is baking, place eggs, whipping cream, mustard, garlic and salt and pepper into a large bowl. Whisk until the eggs are frothy; set aside.
Remove pan from the oven and sprinkle with the cheeses and onion. Gently pour the egg mixture over the cheese and onion. Place the asparagus side by side on top of the egg mixture.
Place in the hot oven and bake for 30 minutes or until the egg is golden brown and puffy. Remove and eat while hot or at room temperature.