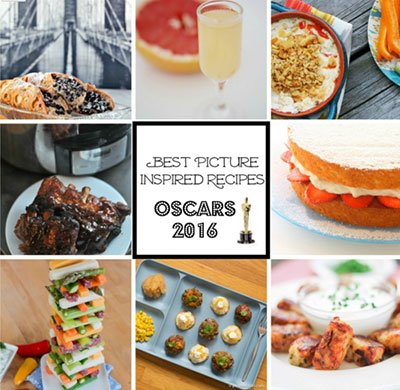 Photos from this year's participants. To see their posts, please scroll down to the bottom of the page for links to their sites.
Last year Haley with Cheap Recipe Blog asked if I'd like to join her and a group of other bloggers for a fun little event centering around the best picture nominees for the Academy Awards. We were assigned a nominated picture and asked to see the movie, write about it and cook a recipe that was associated with it. Even though I thought it was a lackluster year for movies I was happy to join in because I love movies.
I was assigned the movie Whiplash, a movie I probably never would have seen had it not been for Haley's event. I did enjoy the super intense movie, albeit not a much as my preferred genre of period romance, but sadly, there wasn't one available that year. To flashback to last year's post and my recipe for golden potato, bacon and rosemary pizza, please click here.
When she asked if I'd like to join in again this year, I was happy to say yes. Since I thought that the movies this year were a bit better than last, I knew I had a good chance of writing about a movie that I really enjoyed. This year I was assigned the movie "Room".