I love the fall, I always have. As a girl growing up in Texas, the cold weather brought a new school year, which I truly loved, and the promise of a brand new holiday season. Halloween marked the beginning of the party fun. If you are a child in America, only the excitement of Christmas morning can surpass the thrill of Halloween night.
On Halloween, my mother would always mix up some sort of token beef mince dish, knowing that she would have to force us to eat every bite. After choking down our tea, and being granted parole from our kitchen table prison, my sister and I would run to our room and don our well planned fancy dress for the night. We would run down the street, ringing every doorbell in our path, filling our pillowcases (yes, pillowcases) with sweets. Upon our return home, we would pour our treasure out on the floor and spend the next hour sorting and cataloging. We were content, our dentist grew richer, and my mother secretly threw a handful away everyday until it was gone. Everyone was happy. Little did I know then, Halloween wouldn't be the only fall ritual that I would be fortunate enough to celebrate in the years to come.
My first bonfire celebration came a couple of years after our arrival in Nottingham. Our children's young ages and their sensitivity to the cold (whining incessantly), kept us home. The first party we attended was at the local football grounds and, between the dampness and the cold, all 200 of the attendees resembled life size ice lollies. The bonfire, even though enormous, was only able to accommodate about 75 guests, thawing only one side of their bodies at a time. So, after about an hour of this fun, we took our singed eyebrows and frozen bums home and got into a hot bath. We made it a rule to send our regrets to any future outdoor parties that took place after August. Our loss.
Fast forward 12 years, I now have great ideas for bonfire parties I wish I'd had. How come you don't know what you've got until it's gone? Oh well, I'll just have to share those ideas here and live vicariously through those that choose to use them. The following soup recipe is a creation of mine and the fabulous sweet recipe is on loan from a generous friend. Some of my favorite recipes have been borrowed from friends, discovered at parties, picnics, and even funeral luncheons. I have no shame.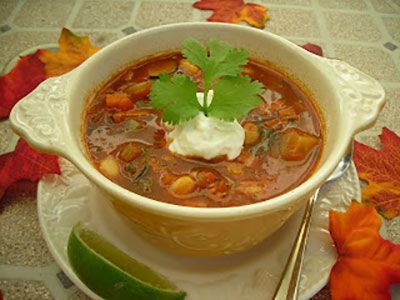 Hearty Four Pepper Vegetarian Chili
The most difficult part of preparing this dish is roasting and peeling the peppers and onion, which, while adding depth to the flavor, isn't absolutely necessary. If you want a very mild flavor, just add one jalapeno, or leave it out altogether.
1 large red bell pepper
1 large orange bell pepper
1 large green bell pepper
3 large jalapeno peppers (for a spicy hot flavor)
1 large onion, sliced into thick slices (approximately 2.5cm)
3 tablespoons vegetable or light olive oil
2 large cloves garlic, finely minced
1 large carrot, finely diced
1 large stalk celery, diced
3 cups (750ml) water
1 – 14.5 ounce (429g) tin chopped tomatoes
1 tablespoon (15ml) condensed vegetable stock (or 3 stock cubes)
2 teaspoons (10ml) ground cumin
2 tablespoons (30ml) mild chili powder
1 teaspoon paprika
1 large bay leaf
1 dessertspoon finely chopped fresh coriander
3 small courgettes, sliced in half lengthwise then across in bite size pieces
1 – 15.5 ounce (439g) tin cannellini beans, (or any other small to medium sized white bean), rinsed and drained
2 heaping dessertspoons fresh or frozen sweet corn
1 tablespoon (15ml) freshly squeezed lime juice
Salt and pepper to taste
To Serve:
Lime Wedges
Soured Cream
Chopped fresh coriander
Grated cheddar cheese
Grill the peppers and onion either over and open flame or under and indoor grill until the skin turns black and bubbles. Place peppers into a zippered plastic or paper bag and allow to steam until the skins are easily removed. Dice the grilled onion and peeled peppers; set aside.
Place the oil in the bottom of a large stock pot that has been set over a medium high heat. Add the minced garlic and saute for approximately 1 minute. Add the chopped peppers, onion, carrot and celery, saute for a minute or two longer. Add the water, tomatoes, vegetable stock, cumin, chili powder, paprika, and bay leaf. Stir well and bring to a boil. Reduce heat to low, cover and simmer for 15 minutes then add the coriander, courgettes, beans and sweetcorn. Replace the cover and simmer for an additional 30 – 40 minutes or until the broth is dark red in color, and the flavors have blended completely. Add the lime juice and salt and pepper to taste. Serve piping hot.
To serve, offer lime wedges, soured cream, fresh coriander and grated cheddar cheese on the side. If you prefer, transfer contents to a tureen and swirl soured cream and sprinkle the coriander on top of the entire dish.
Serves 6.
This recipe can be easily made a day or two in advance and refrigerated until ready to use, in fact, it is best when it sets overnight. Unused portions also freeze well.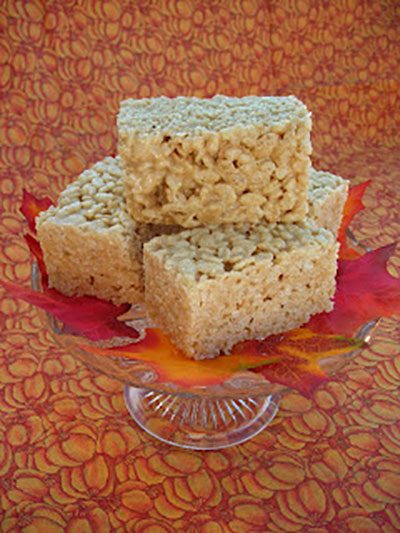 Rosemary's Sticky Toffee Krispie Treats
At last year's bonfire party, I was advised to get one of these before they were gone and, I wasn't sorry. These buttery sweets are the perfect ending to a spicy chili meal. Thanks Rosemary, for sharing your recipe.
7 ounces butter
7 ounces toffee
7 ounces marshmallows
7 ounces Rice Krispie cereal (Rosemary says that she uses 8 ounces and finds it just right)
Melt the butter and toffee together in a large stockpot set over medium heat. Add the marshmallows and melt, stirring constantly. Add the cereal and fold in until the ingredients are completely combined. Pour into a large/deep greased pan. Press down firmly with greased hands; cool. Cut into squares.