When I started this blog earlier this month, the goal that I set for myself was to make a new entry every week. Well, you know what they say about the best laid plans. Last week, illness swept its way through my household and took us all prisoner. After a few pretty rough days, even though I am still nursing a 13 year old who is convalescing on my sofa, I am on the mend and ready to get back to work.
My friend Karen (also know as the unofficial Halloween Queen of the East Midlands) rang me today and we spent the best part of an hour solving the problems of the world. Somewhere between Barack Obama and shocking Facebook discoveries, Karen mentioned that this Halloween, not only is she helping out with her village's children's party, it is her turn at hosting the "Impromptu Friday Night" dinner at her house. I am truly honored to report that she will be serving my Creamy Chicken Chili. I can't wait to hear the reviews on my recipe.
During the course of our conversation, the following recipes came to mind and I really wished that I had included them in my first entry. Oh well, they are so quick and simple, that I'm going to add them today. Hence my entry title.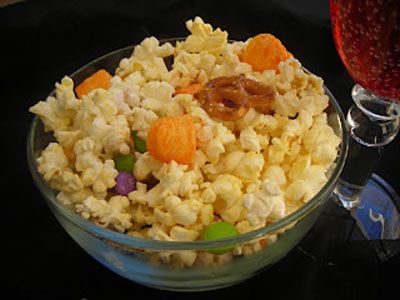 Popcorn Party Mix
This throw together mix is an inexact recipe. Add more of what you like and less of what you don't. The combination of sweet and savoury, makes this mix extremely addictive.
1 – 3.5 ounce bag butter flavour microwave popcorn, popped and cooled
2 heaping hands full cheese flavour puffs (such as Wotsits)
1 heaping handful bite size savoury crackers (any favourite)
1 heaping handful mini pretzel twists
1 heaping handful bite size cereal (any favourite will do)
1 handful peanuts or cashews
1 cup Smarties
Place the first 5 ingredients into a large bowl and gently toss. Sprinkle the peanuts and the Smarties over all before serving as they will have a tendency to sink to the bottom.
This is a recipe that lends itself to change. Feel free to substitute any of these ingredients with your favorite crisp or cereal to make it your own special recipe. To serve, use a large scoop and serve in plastic or paper drink cups.
This recipe makes one big party bowl full. Save any unused portions (if there are any) in a zipper seal plastic bag. Leftovers make a fun addition to a dull lunchbox.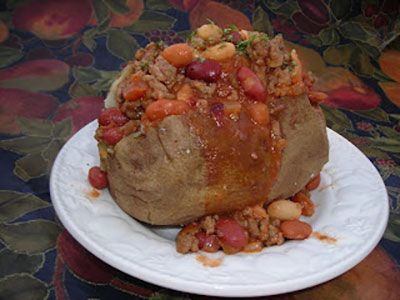 Beefy Baked Beans
Try filling your jacket potato with this delicious mixture. I know you're probably wondering why go to the trouble of homemade when you can just buy a tin at the supermarket. Well, make this recipe once and you'll understand why. This dish makes an ordinary jacket potato or piece of toast something special. If you prefer, feel free to substitute the beef mince for turkey or chicken or, leave the meat out altogether. This dish will easily serve 8 people so, if you are cooking for a smaller group, freeze any unused portions. Oh by the way, a good sprinkling of grated medium cheddar pushes this across the line to sheer decadence.
1 – 15 ounce tin (425g) cannellini beans or any other small white bean, rinsed drained
1 – 15 ounce tin (425g) pinto beans, rinsed and drained
1 – 15 ounce tin (425g) red kidney beans, rinsed and drained
500g beef mince
1 tablespoon (15ml) vegetable oil
4 rashers streaky bacon, sliced into 1" slices
1 medium size onion, (approximately 260g) diced
2 cloves garlic, finely minced
1 cup (250ml) tomato ketchup
1/3 cup (75ml) maple syrup
1 teaspoons (10ml) apple cider vinegar
1 tablespoon (15ml) Worcestershire sauce
1 tablespoon (15ml) lemon juice
2 tablespoons (30ml) packed light brown sugar
1/3 cup (80ml) water
Salt and pepper to taste
Preheat oven to 350 F, 180 C, Gas Mark 4.
In a large, 9 x 13" which has been greased, pour the three tins of drained and rinsed beans and set aside.
In a large frying pan over medium high heat, cook mince until cooked through, breaking meat with a spatula, approximately 10 minutes. When meat is done, drain off any liquid and pour on top of the beans in the baking dish.
In the same pan, which has been wiped clean, place the vegetable oil and bacon slices and cook over medium high for approximately 5 minutes. Next add the onion and cook, stirring frequently until onions are soft. Finally add the minced garlic and cook for 1 more minute. Pour contents of the pan over the mince in the baking pan.
In a small bowl, combine the ketchup, syrup, vinegar, Worcestershire, lemon juice, brown sugar and water. Mix well to combine completely. Pour over the contents of the baking dish and stir well, making sure that all of the ingredients are covered in the sauce. Add salt and pepper to taste. Smooth the contents with the back of a spoon until it is in an even layer. Cover and place in the oven and cook for 30 – 40 minutes or until it is hot and bubbly.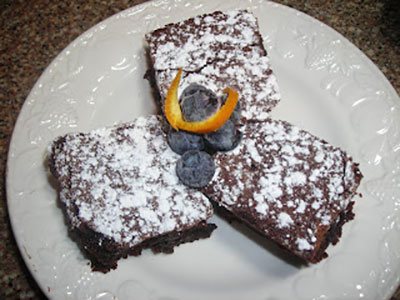 Easy Peasy Brownies
This is a great recipe for beginning cooks. My children have both had a go at this recipe with predictably delicious results. These brownies turn out chewy and moist with a deep chocolate flavor. This is a perfect homemade treat for packing in lunches or picnic hampers. Be sure and don't get too anxious and cut these while they are still warm as they will crumble to bits.
2 eggs
1 cup (225g) sugar
1 teaspoon (5ml) vanilla extract
½ teaspoon (2.5ml) salt
1/2 cup (113g) butter, melted
1/3 cup (33g) cocoa
1/2 cup (80g) flour
¼ teaspoon (1ml) ground cinnamon (optional)
½ cup (68g) pecans or walnuts (optional)
Icing sugar for dusting
Preheat oven to 325 F, 170 C.
Beat eggs well in a medium sized mixing bowl. Add the sugar vanilla and salt; mix well and set aside. Melt the butter in a small saucepan. Whisk the melted butter and cocoa together; add to the egg mixture along with the flour, cinnamon and nuts; mix well and pour into a greased 8 x 8" baking pan.
Bake in the preheated oven for approximately 35 – 40 minutes or until a toothpick inserted in the middle comes out clean. Cool completely and dust with sifted icing sugar before slicing.