Like most everyone else in the world, I have the same routine every morning. I get up, let the dog out, make coffee and turn on my computer. First, I check the spam in my mailbox then I move onto reading the food blogs of others. Normally, I don't make a practice of mentioning other people's blogs because I'm afraid that they will recognize themselves and burn my house down, but I'm going out on a limb today.
I joined a website sometime ago that randomly chooses five blogs everyday and features their titles on a sidebar that is located on my site. Some days checking out these titles takes me only moments, some days it may take me and hour or so. In addition to exploring these blogs, I sometimes click on the sites that they are following, then the sites that they are following and so on and so on. Before I know it, I am Gretel lost in the forest without Hansel or a handful of breadcrumbs. Usually when this happens, I do what I do best to get out of trouble in cyberspace, I push the power button.
A few days ago I ran across a blog that was talking about one of my favorite foods, Croque Monsieur. The dish that the author photographed was a dry looking stack of gray, white and pink that did justice to nothing that I have ever seen eaten on this planet. I do have to say in the author's defense, Croque Monsieur is not the most photogenic of dishes. Besides, I know what you must be thinking, "What about your horrible looking Hopping John or those less than appetizing Easy Peasy Brownies?" Point well taken, but I prefer not talking about my photographic failures here today.
If you've not had the pleasure of tasting this most delightful of all sandwiches, I'll give you the quick rundown. Croque Monsieur is the French answer to the ultimate grilled cheese. It is a ham and cheese sandwich served on crispy toasted French bread, generously topped with a cheesy bechamel sauce and then placed under the grill (broiler to Americans) and cooked until it is perfectly brown and bubbly.
I first discovered this heavenly dish on a weekend trip to Paris. After a day of dragging two young children and one mother-in-law around all day to see the sights, we ducked into a little unassuming cafe across a side street from Notre Dame. It was rainy and cold and we needed a refuge from the rain and all of the whining. The cafe was warm, smelled of coffee and was brimming with patrons. My husband and I stood at the counter reading the menu for what seemed like and eternity. I don't know about any of you but, the Parisians scare me a bit and the man behind the counter staring at us was no exception. I decided on ordering the Croque Monsieur only because I thought I could pronounce it, having no idea what might land on the table in front of me. I thought that I did pretty well but the "gentleman" behind the counter still made me say it twice just for his amusement.
I am proud to report that for once in my life, I ordered the best dish on the table. Usually I find myself yearning for someone else's plate but not this time, I was in the catbird's seat. Even my five year old abandoned her chicken nuggets (how my husband managed to order this I still do not know to this day) and dug her fork into mine. I don't know if it was hunger, fatigue or relief at a successful order but we were both in heaven.
Now that I have once again made you endure one of my stories to get to my recipe, here it is. I really think that this recipe does justice to the one that I first ate on that rainy April day, 14 years ago. My now 19 year old daughter gives her hearty stamp of approval. She doesn't remember her first Croque Monsieur in that warm little cafe in Paris but maybe she'll always remember mine.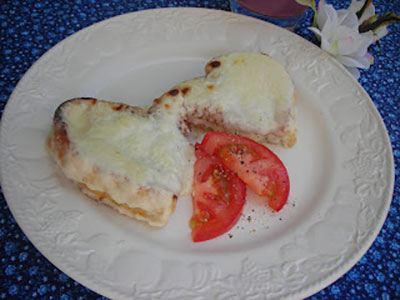 Almost Authentic Croque Monsieur
5 tablespoons (70g) butter, softened and divided (this amount allows for a bit extra depending on how buttery you like your toasted bread)
2 tablespoons (24g) all-purpose flour
1 large clove garlic, crushed
1 pinch cayenne pepper
2 – 2-1/2 cups (500 – 625ml) milk
1/2 cup (54g) freshly grated Parmesan cheese
6 ounce (170g) freshly grated Gruyere cheese (reserve a heaping dessertspoon)
Salt and pepper
8 large slices of fresh French bread
1 tablespoon Dijon mustard
1/2 pound (250g) lean deli sliced ham
Place 2 tablespoons (28g) of the butter in a medium size saucepan over medium heat. When the butter is melted, whisk in the flour and the garlic. Whisking constantly, gradually add the cayenne and the milk and bring the mixture to a slow boil. Reduce the heat and, whisking frequently, allow mixture to simmer for a minute. At this stage the mixture may be a bit thin but with the addition of the cheeses and after it cools some, it will thicken up a bit. Since American flour, which is what I work with, may provide a different consistency than English flour, feel free to adjust the amount of milk you use (1/4 a cup, 62ml at a time) to reach the thickness you desire.
Add the Parmesan and one half of the Gruyere and whisk until the cheese is melted and the mixture is completely combined. Add salt and pepper to taste. Cover and set aside until ready to use.

Preheat oven to broil.

Place a large non-stick frying pan over medium heat. Spread both sides of the bread with a thin layer of the remaining butter and place in the hot pan and toast both sides to a golden brown. Remove from the pan and spread one side of four slices of the toasted bread with a thin layer of the mustard, equal amounts of the ham and the remaining Gruyere (with the exception of the reserved dessertspoon).

Transfer open face sandwiches on a non-stick baking sheet with a small lip around the edge. Place into the preheated oven and cook until the cheese is bubbly. Remove baking sheet from the oven. Top sandwiches with the remaining slices of bread then ladle the cheese sauce over the sandwiches. Finally, sprinkle equal amounts of the reserved Gruyere over the top. Place sandwiches back into the oven and, watching carefully, cook until the cheese sauce is golden brown and bubbly. Serve immediately.

Serves 4