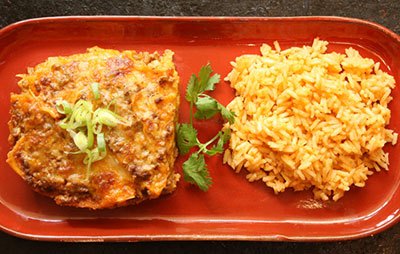 The holidays are over and it's time to get back to business. My children have gone back to school and I'm left with a refrigerator full of leftovers and a mountain of dirty clothes. I make it no secret that I love being a mother; so far it has been the best part of my life. I love being needed but slowly I am being nudged out of my children's lives. My son is a big fellow now who can cut his own meat and pick out his own clothes. My daughter now lives at university and actually requests vegetables for supper on her visits home. If that's not a sign of maturity, I don't know what is.
My previously mentioned, beautiful, all grown-up daughter is in New York this weekend to attend a ball with her new boyfriend in honor of third year West Point cadets. I'm sure I drove her crazy helping her pack and giving her endless instructions on what to do in the unlikely event that the worst case scenario came to fruition.
I was worrying because for the past eighteen years, during all of her pretty extensive travels, she has had her own personal concierge traveling with her. Not this time though, my personal assistance expertise was not needed or invited. She was going it alone. Bless her, she rolled her eyes only slightly and smiled sweetly at me as she headed toward the security queue.
You see, I was that silly woman that you sometimes see on the sidelines blowing kisses, ringing her hands, and pretty much hovering as usual. I was comforted a bit because she was armed with two well packed carry-on bags that had my personal stamp of approval and orders to text me as soon as she reached her gate so I could give her, her next set of instructions.
She did as she was told and was finally given permission to board her plane and head off to New York City and the handsome young man waiting there for her. She sent me a message as soon as she met her date in the city and they boarded their train enroute to their final destination and a blissful, motherless weekend of socializing.
I was now finally able to relax, figuring that West Point doesn't maintain its sterling reputation by losing pretty young coeds who had come to visit for the weekend. I figured that it was smooth sailing from here. Mission accomplished. Chardonnay time.
But wait not so fast! The next phone call I received wasn't one that I had requested or would even have wanted if I had known what trouble awaited me. The shaky little voice on the other end was my daughter informing me that she had left her bag with all of her clothing for the weekend in the overhead compartment of the train that was now on its way to parts unknown. Ugh! Now, as bad as this was there was an upside. Since the missing bag was stuffed with necessities for the weekend, we thankfully had packed the expensive, borrowed evening gown in the bag that she had with her. We can work with this, I thought.
To make a very long story short, instead of enjoying an elegant dinner with friends, the two of them spent their first evening together driving through Connecticut, chasing a commuter train to its termination point only to find out that the bag was either taken (and now being enjoyed by a very petite, smartly dressed thief) or rescued by the rail line personnel and safely locked up in lost and found until Monday between the hours of 16.00 – 18.00.
In any case, she not only faced wearing the same clothing for the remainder of the weekend but also sporting furry black boots with her gown. Like the millions before her who have faced this problem, she and her date made the pilgrimage to the nearest Target (our version of Asda on steroids) and purchased a skeleton crew of inexpensive necessities. Oh, by the way, she was able to find a pair of brown satin shoes that worked with her dress for the ball. If she ever questioned her faith, this is certainly proof that there is a God and she must be female.
During one of my heartsick calls to her, my sister assured me that my daughter's well trained soldier date could certainly help her survive a weekend in the wilderness much less one without matching shoes or clean panties. Poor fellow, in my opinion, even the army couldn't possibly prepare him for this catastrophe. My heart really bled for this innocent young man who was raised with only brothers and trained by the military, trying to comfort her. If their relationship survives this weekend it is meant to be.
My little road warrior arrives home tonight, a bit battered but hopefully no worse for the wear. Even if she doesn't get her bag back she will soon forget the adorable clothes that she lost and remember the valuable lessons that she learned. Keep a pair of clean underwear stuffed in your handbag and now that you have made your personal concierge redundant it is all up to you to have a successful and drama free trip.
Maybe she will now appreciate how effortless I made it all look. By the way, I learned my own lesson in Amsterdam when I set my purse down in the wrong place only to have it snatched up by a sorry low down dirty thief who will most certainly burn in hell for all eternity, and who benefited greatly by my carelessness. As you can see, I wasn't born knowing it all either.
When Grace arrives home I'll do what I do best and comfort her with food and an abundance of clean, smart clothing in her size. Since she loves Mexican food, I'm planning an enchilada casserole, refried black beans, Mexican rice and, of course, some fresh veg. I hope that maybe someday these recipes will comfort someone you love too.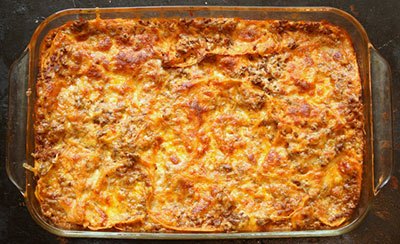 Beef and Cheese Enchilada Casserole
Traditionally, enchiladas are made by rolling the cheese up in the tortillas to resemble tubes with the sauce poured over. This recipe simplifies this time consuming recipe without compromising the taste. Be careful to purchase mild chili powder unless you and your guests love spicy food. One more note, I have called for the more traditional onion garnish here but, fresh chopped coriander is delicious sprinkled over as well.
1 pound (500g) lean beef mince
2 tablespoons (30ml) vegetable oil, divided
1 tablespoon (15ml) butter
3 tablespoons (45ml) all-purpose flour
2-3/4 cups (680ml) water
1 tablespoon (15ml) chicken bouillon granules (regular or low sodium depending on your preference)
1½ teaspoons (7.5ml) ground cumin
½ teaspoon (2.5ml) ground coriander
1 teaspoon (5ml) garlic powder
2 tablespoons (30ml) mild chili powder
1/4 cup (60ml) whipping or double cream (optional for a creamier tasting sauce)
8 corn tortilla pancakes
2 cups (339g) mild or medium cheddar cheese, grated
½ cup (128g) sweet yellow onion or spring onion, finely chopped (optional)
Preheat oven to 350 F, 180 C, Gas Mark 4
In a large frying pan, over medium heat, brown mince in 2 tablespoons (30ml) vegetable oil until cooked through, approximately 10 minutes. Add butter and melt before sprinkling the flour over the top; mix well. Stirring constantly, gradually add the water, bouillon granules, cumin, garlic powder, and chili powder. Continue stirring until mixture thickens and bubbles; reduce the heat to low and add the cream and stir well. Remove the sauce from the heat. Pour enough of the sauce to just cover the bottom of an 8 x 8" baking dish (three or four dessertspoons).
Lay the tortillas on a flat surface, and cut into quarters (in the case of large tortillas, cut into sixths). Place the tortilla quarters over the sauce in the baking dish doing your best to cover the bottom completely. If you leave a few holes, that is ok as you want the sauce to permeate each layer. Top the tortilla layer with 1/3 of the sauce then 1/3 of the cheese. Repeat the layers two more times, ending with the cheese.
Cover the dish with foil and place into the preheated oven. Bake for 25 – 30 minutes before removing the cover and returning to the oven for an additional 10 minutes to brown slightly on top. Remove from the oven and cool for 5 minutes before serving. Sprinkle with chopped onions or fresh coriander if desired.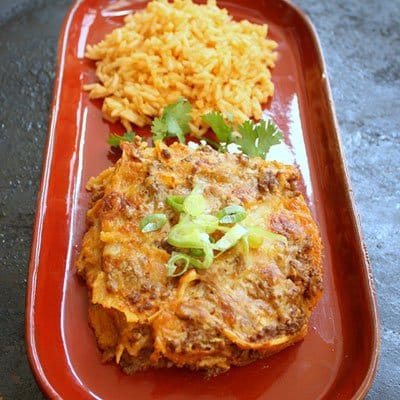 Mexican Rice
This is a true example of Tex-Mex peasant cooking. Since I am a practical home cook, I use either jasmine or basmati rice for this recipe because I usually have one or the other in my cupboard. This is a wonderful side dish to any Mexican meal.
2 cups (500ml) water (or amount called for on rice package cooking directions)
1 cup rice
1 tablespoon (15ml) chicken bouillon granules or soup base
1/2 teaspoon (2.5ml) garlic powder
1 teaspoon (5ml) chili powder
1 dessertspoon or so frozen chopped pea and carrot mix
Place all of the ingredients in a medium size sauce pan over medium high heat. Bring to a boil, stir, reduce heat to low, cover and cook for 20 minutes or until all of the water is absorbed. Remove from the heat and fluff with a fork before serving.
Serves 6
Savory Refried Black Beans
I know that this sounds like a lot of beans for 4 – 6 people but, believe me, you will need them. This recipe is really at its best when made a day in advance and reheated shortly before serving. When reheating, have some extra water on hand to keep these at the consistency of creamy whipped potatoes.
4 rashers streaky bacon, chopped into 2cm slices across, plus 1 tablespoon (15ml) vegetable oil, if needed
1/2 small sweet yellow onion, finely chopped
2 – 15 ounce (2 x 420g) tins black beans, undrained
1 teaspoon (5ml) garlic powder
1 teaspoon (5ml) salt
1/4 teaspoon (1ml) freshly milled black pepper
Place the bacon in a medium sized frying pan which has been set over medium high heat. If the pan seems too dry add additional oil to facilitate even cooking. Cook until almost crispy.
Add onion to pan and sauté until they are soft and transparent. Add the beans, bacon, garlic powder, salt and pepper. Stir until heated mashing beans with a potato masher as they heat. Transfer to a serving bowl and serve immediately or refrigerate overnight and reheat adding small amounts of water if needed to reach desired consistency.